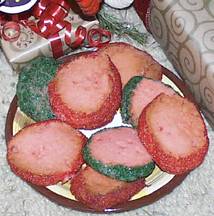 Recipe created by FabFood on

Jul 23, 2007
View more recipes by FabFood.
Prep: –
Cook Time: –
Total: –
Serving: –
Recipe for Peppermint Refrigerator Cookies. These are particularly festive for the holiday season.
Ingredients
3 cups flour
1/2 teaspoon baking powder
1/2 cup butter
1/2 cup vegetable shortening, plain or butter flavored
1 cup sugar
1 egg
2 tablespoons milk
1 teaspoon peppermint extract
1/3 cup crushed candy canes or peppermint hard candy
Optional:
red and green food coloring
colored sugar to decorate the edges
Directions
Combine flour and baking soda in small bowl.
In a large bowl with an electric mixer, beat together butter, shortening and sugar until light and fluffy -- about 3 minutes. beat in the egg, milk, extract and crushed candy until well combines. Reduce mixer speed to low and gradually mix in flour mixture, mixing until just combined -- do not overmix.
Gather dough and divide it in half. If desired, use food coloring to dye half the dough red (or pink) the other half green.
On a lightly floured surface, roll each half of the dough into a cylinder about 8 inches long. If desired, roll each cylinder to coat the edges in colored sugar (again, I used red and green) -- this gives the edges of the cookies some crunch and it looks nice. Wrap each cylinder in plastic wrap and refrigerate for at least 2 hours. (You can also freeze the dough at this point and bake it at a later date).
Makes About 60 Cookies To bake:
Preheat oven to 375° F. Use a long sharp knife to cut each cylinder into 1/4 inch slices. Arrange the slices on a baking sheet, a couple of inches apart and bake until lightly browned -- about 8-10 minutes, or until just barely starting to brown. Let cool for 5 minutes before transferring to a wire rack to cool completely.