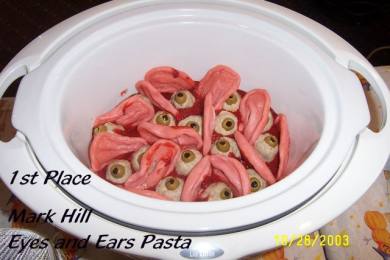 Recipe created by FabFood on

Oct 10, 2008
View more recipes by FabFood.
Prep: –
Cook Time: –
Total: –
Serving: –
Recipe for Creepy Eyes and Ears Pasta for Halloween. Fabulous Foods reader Mark Hill of Coppell, Texas sent in this prize winning Halloween recipe.
Ingredients
To Make the Ears:
1 1/4 cup cake flour (not self-rising)
1/2 teaspoon salt
2 large egg yolks
1 1/2 tablespoons olive oil
1/4 cup water
3 drops Red food coloring To Make the Eyeballs:
1 1/2 pounds of Ground Chicken or more
1/8 teaspoon salt
1/8 teaspoon pepper (white if you have it but black will do)
1/8 teaspoon
garlic pitted medium green olives
pitted medium black olives
To make the Blood/Sauce:
1 small jar marinara sauce (or your favorite homemade recipe -- see Releated Recipes below)
red food coloring
Directions
To Make the Eyeballs: Dump the ground chicken in a mixing bowl, add the spices, and mix well. Make little balls of chicken about 1 1/2 inches in diameter and place on a cookie sheet. To make the iris of the eye, take a green olive and cut in half and remove the pimento if you bought that type. To make the pupil, cut a black olive into small pieces. Now insert the black olive piece into the half of green olive. Stick the green olive onto the ground chicken eyeball. When you cook the eyeballs, you do not want them to brown, so steam them. Steam the eyeballs just like you would steam vegetables. It should take about 20 minutes over medium heat.
Prepare the Ears: Roll out the dough on a floured counter with a rolling pin. The dough should end up about 1/8 inch thick. Cut out round pieces of dough using a glass about 3 inches in diameter. Cut a small hole in the middle of the 3 inch piece of dough to form the ear canal. Roll up the edge of the round piece of dough and form into an ear shape. It helps to have a picture of an ear since you cannot look at your own. I put my ear on the copy machine and made a copy.
Put the finished ears on a dishtowel and let dry overnight if possible. If you do not have time, an hour or two will suffice.
Cook the ears in boiling water and 1 tablespoon of olive for about 2 minutes or until they float to the top of the water. Drain the ears in a colander.
To Make the Blood: Simply take a small jar of spaghetti sauce and mix in some red food coloring.
Assemble the Dish: In a slow cooker or serving dish, pour the "blood" into bottom. Arrange the cooked "eyes" and "ears" and you're done. This dish can be easily reheated in a microwave or keep it warm in a slow cooker set on warm for the length of your party.