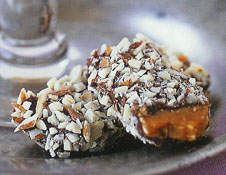 Prep: –
Cook Time: –
Total: –
Serving: –
Recipe for English Toffee. Cut into rectangular shapes, dipped in chocolate, and covered with chopped almonds, these are difficult to resist.
Ingredients
3 tablespoons unflavored vegetable oil, such as safflower oil
1 1/4 cups unsalted butter
1 cup sugar
1/4 cup water
1/2 teaspoon salt
2 1/2 cups sliced almonds, finely chopped
12 ounces bittersweet chocolate, finely chopped
Directions
Yield: 60 Pieces
Coat a metal rolling pin, pizza wheel and marble board or the back of a baking sheet with the vegetable oil; set aside.
Cut the butter into a few pieces and melt in a 3-quart heavy-bottomed saucepan over low heat. Add the sugar, the water and the salt; increase the heat to medium and cook until the mixture registers 260°F on a sugar thermometer (about 10 minutes), stirring constantly with a wooden spoon or heatproof spatula. Add 1/2 cup of the almonds and continue cooking until the mixture becomes golden brown and registers 305°F on the thermometer (about 8 minutes) stirring constantly. Remove the pan from the heat and carefully pour the mixture onto the oiled board.
With the oiled rolling pin, quickly spread the mixture out very thin. It is necessary to work fast, because the mixture sets up rapidly and becomes too brittle to cut.
While still warm, with the oiled pizza wheel score the toffee into pieces that are 1 1/2 inches long and 1/2 inch wide. Let these centers set until cooled to room temperature (about 30 minutes).
Melt and temper the chocolate. Either dip the toffee in chocolate immediately, or store it in a tightly covered container at room temperature. If left exposed to the air, the toffee will absorb moisture and become soft.
Line 3 baking sheets with parchment paper or waxed paper. Sprinkle the remaining 2 cups almonds on one of the prepared baking sheets. Dip a toffee piece into the tempered chocolate, coating it completely. With a dipper or fork, remove the toffee from the chocolate, gently shake off the excess chocolate and drop the toffee in the chopped almonds. Roll the toffee in the almonds, coating it thoroughly, and turn out onto the paper lined sheets to set up completely, or chill in the refrigerator for 15 minutes.
In a tightly covered container wrapped in several layers of aluminum foil, the toffee will keep for 2 months in the refrigerator.
Filed Under:
Candies and Sweets, Vegetarian, RV, Gifts, Make Ahead, Kid Friendly, Valentines Day, Mother's Day, Father's Day, Christmas, English/Irish/Scottish