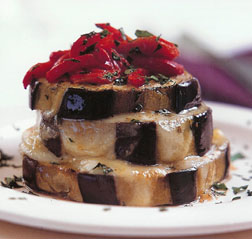 Recipe created by FabFood on

Jul 23, 2007
View more recipes by FabFood.
Prep: –
Cook Time: –
Total: –
Serving: –
Recipe for Low Carb Eggplant and Goat Cheese Lasagnas. Eggplant is meaty enough to make a filling and satisfying side dish.
Ingredients
2 large globe eggplants, preferably long and thin
1/4 cup coarse sea salt
olive oil for brushing
freshly ground black pepper
best quality dried oregano for sprinkling
3 ounces soft, mild goat cheese, such as Montrachet
1/3 cup freshly grated imported pecorino, grana padano, or Parmigiano-Reggiano
3 ounces slivered fontina cheese
8 leaves fresh basil, cut into julienne
1 roasted red bell pepper, peeled and cut into 1/4 inch julienne
1 tablespoon coarsely chopped flat-leaf parsley
Directions
Trim off the stems of the eggplants and peel them, leaving 4 1/2 inch wide, lengthwise strips of peel around each one. Slice them crosswise about 5/8 inch thick (you should have 12 nice slices).
Gently combine the eggplant slices with the salt in a colander, distributing the salt with your fingers. Let drain for 20 minutes, then rinse briefly and pat dry thoroughly with kitchen towels.
Preheat the oven to 350 F and line a baking sheet with parchment paper. Place the slices in a single layer on the parchment, and brush them lightly with olive oil. Season generously with pepper and oregano and bake for 5 minutes, until slightly softened. Remove from the oven, leaving it on if you plan to finish the dish immediately (the slices can stand at room temperature for up to 2 hours).
Cut the goat cheese into 4 equal pieces. On the same baking sheet, choose the 4 largest eggplant slices as the bases. Place a piece of goat cheese in the center of each and top with a pinch of pecorino. Top each with a medium slice of eggplant, and top this slice with 1/4 of the slivered fontina, 1/4 of the basil, and another pinch of pecorino. Top each with another eggplant slice and press the top layer gently but firmly with a flat spatula to compact the stack a little. Sprinkle with the remaining pecorino and cover the pan with foil.
bake the lasagnas for 20 to 25 minutes, until warmed through, with the cheese bubbling slightly around the edges. Remove the foil and cook for 5 to 10 minutes more, if necessary, until soft enough to cut with a fork (the peel will be a little tough, but looks far more interesting than completely peeled eggplant).
To serve, place a jumble of red pepper julienne on top of each lasagna and scatter with a little parsley.
Per Serving:
228 calories; 8 grams net carbs (13 grams less 5 grams fiber); 14 grams fat (9 grams saturated).