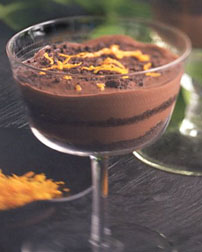 Recipe created by FabFood on

Jul 23, 2007
View more recipes by FabFood.
Prep: –
Cook Time: –
Total: –
Serving: –
Recipe for cooking Chocolate-0range Silk Mousse. Intense, heavenly chocolate is all you'll think about when you taste this dessert.
Ingredients
1 package (12.3-ounce) reduced-fat silken tofu (1 1/2 cups)
3 ounces good-quality bittersweet chocolate (not unsweetened), finely chopped
1/3 cup unsweetened cocoa powder
1/4 cup boiling water
1 teaspoon vanilla extract
1/2 teaspoon freshly grated orange zest
2/3 cup confectioners' sugar
2/3 cup chocolate wafer crumbs (3 ounces) (see note above)
Directions
Makes 5 servings, about 1/2 cup each.
1. Purée tofu in a food processor, scraping down the sides as needed, until completely smooth.
2. Combine chocolate and cocoa in a medium bowl. Add boiling water and stir with a wooden spoon until the chocolate has melted and the mixture is smooth. Stir in vanilla and orange zest. Mix in confectioners' sugar, a little at a time, until smooth. Add the chocolate mixture to the processor; puree until smooth and well blended, scraping down the sides as needed.
To make wafer crumbs: Place wafers in a ziplock plastic bag, seal and crush with a rolling pin. Alternatively, pulse wafers in a food processor.
3. Spoon about 2 teaspoons chocolate crumbs into each of 5 parfait glasses or dessert dishes. Add about 1/4 cup mousse, then layer with another 2 teaspoons crumbs. Top with another 1/4 cup mousse and finish with a sprinkling of crumbs. Cover and refrigerate for at least 1 hour.
Per Serving: 266 Calories; 9 g Fat (4 g sat, 0 g mono); 1 mg Cholesterol; 42 g Carbohydrate; 8 g Protein; 4 g Fiber; 125 mg Sodium.
Nutritional Bonus: 16% DV Fiber.
Filed Under:
Puddings and Mousses, RV, Picnics, Make Ahead, Kid Friendly, Low Fat, Eating Light, New Year's, Valentines Day, Easter, Mother's Day, Father's Day, Christmas, Diabetic