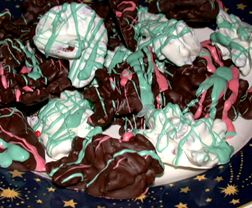 Recipe created by FabFood on

Jul 23, 2007
View more recipes by FabFood.
Prep: –
Cook Time: –
Total: –
Serving: –
Recipe for Chocolate Nut Clusters. What could be easier than just stirring chopped nuts into left over melted chocolate or candy melts?
Ingredients
chocolate and/or white chocolate candy melts or chocolate
nuts, dried fruits, coconut, marshmallows, corn flakes or any combo thereof
optional melted white chocolate tinted* (we used red and green in the photo at right)
Directions
Makes about 4 dozen spoons
Melt candy melts in microwave, double boiler or oven set on lowest temperature. Or follow directions to melt and temper chocolate.
* To tint chocolate or candy melts do not use regular food colorings (both liquid and paste) -- they will cause the candy to "seize" and get grainy. Use only special powder or gel candy colors.
Stir in nuts and other desired ingredients. Spoon small mounds onto waxed paper and let dry. If desired, you can color some of the melted white chocolate (or use it white) and drizzle it decoratively over the clusters as in the photos above and below. Order Candy Making Supplies Candy melts, candy colors, chocolate molds and more.
Filed Under:
Candies and Sweets, RV, Gifts, Quick and Easy, Make Ahead, Kid Friendly, New Year's, Valentines Day, Mother's Day, Thanksgiving, Christmas