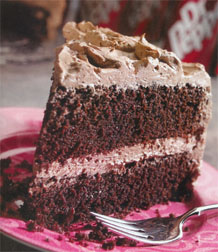 Recipe created by FabFood on

Jul 23, 2007
View more recipes by FabFood.
Prep: –
Cook Time: –
Total: –
Serving: –
Recipe for Dr. Pepper Texas Chocolate Cake. The soft drink's carbonation gives the layers exceptional rising power and a special blend of flavorings.
Ingredients
The Cake:
2 cups sifted flour
1 cup sugar
1 cup dark brown sugar
1 cup unsweetened cocoa powder
1 1/2 teaspoons baking soda
1 cup Dr. Pepper
1/2 cup chocolate chips
2 large eggs
1 cup buttermilk
1 cup vegetable oil
1 1/2 teaspoons vanilla extract
The Frosting:
3/4 cup butter flavored vegetable shortening
6 tablespoons unsalted butter, softened
4 cups confectioner's sugar
1/4 cup unsweetened cocoa powder
1/4 cup Dr. Pepper
1 1/2 teaspoons vanilla extract
Directions
Get the oven heating to 350° F. Grease and flour two 9-inch cake pans, tapping out any extra flour.
Sift together the flour, sugar, brown sugar, cocoa, and baking soda into a bowl and set aside. Pour the Dr. Pepper into a small saucepan and add the chocolate chips. Heat on low, stirring often, until the chips are just melted. Pull off the heat and set aside. Combine the eggs, buttermilk, oil, and vanilla in a mixer bowl and mix on medium speed until combined, about 2 minutes. With the mixer running, slowly pour in the Dr. Pepper-chocolate mixture and continue beating until combined, about 1 minute. Drop the mixer speed back to low and gradually add the dry ingredients. Pop the speed back up to medium and beat 2 minutes more. Divide the batter between the 2 pans. Bake 30 to 35 minutes, or until a toothpick poked into the center comes out clean. Cool the layers in the pans for 10 minutes, then run a knife around the edges and flip the pans over onto a cooling rack. Gently life off the pans and let the cake layers cool completely. Whip up the frosting. First drop the shortening and butter into a mixer bowl and beat until soft and fluffy. Add the confectioner's sugar and cocoa and continue mixing until combined. Stir together the Dr. Pepper and vanilla and very slowly pour it into the frosting, beating with the mixer on high speed to thin it down a bit. Continue beating until light and fluffy, about 1 minute. Set 1 layer, top down, on a good looking plate. Smear on 1 cup of the frosting. Grab the other layer and slap it on top of the frosted one. Spread the rest of the frosting all over the top and sides of the cake, making attractive swirls. Serve and accept the compliments.
Filed Under:
Cakes, Icings and Fillings, Gifts, Make Ahead, Kid Friendly, New Year's, Valentines Day, Mardi Gras, Easter, Mother's Day, Father's Day, Freezer Friendly