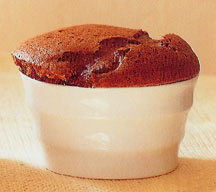 Recipe created by FabFood on

Jul 23, 2007
View more recipes by FabFood.
Prep: –
Cook Time: –
Total: –
Serving: –
Recipe for Double Chocolate Souffles. Serve these soufflés immediately with a drizzle of crème anglaise or a dollop of whipped cream - YUM!
Ingredients
5 ounces bittersweet or semi-sweet chocolate, chopped
1/4 cup milk
6 tablespoons sugar
2 teaspoons whiskey
OR
1 teaspoon vanilla extract
3 large egg yolks
4 large egg whites
1 1/2 ounces bittersweet or semi-sweet chocolate, very coarsely chopped
OR
1/3 cup chocolate chips
For Garnish:
whipped cream
OR
crème anglaise
Directions
Make 6 Individual Soufflés
Butter six 4 oz. ramekins or 6 oz. custard cups. Place them on a baking sheet. Preheat the oven to 400°F.
In a large heatproof bowl set over simmering water, melt the chocolate with the milk. Remove the pan from the heat and whisk in 3 tablespoons of the sugar, the whiskey and the egg yolks. Let stand at room temperature.
In a clean, dry bowl, whip the egg whites with an electric mixer on medium speed until they are foamy and begin to hold their shape when the whisk is lifted. Gradually whip in the remaining 3 tablespoons of sugar, whipping until the whites hold soft, droopy peaks.
Fold the beaten egg whites into the chocolate mixture. Fill the ramekins or custard cups 1/2 full with the soufflé mixture. Sprinkle in the pieces of chopped chocolate. Add the remaining batter, filling the souffle dishes almost to the top.
Bake for 14 minutes, or until the soufflés are firm, yet jiggly when nudged. They should be very soft when you remove them from the oven. Serve immediately.
Custard cups can be filled with the soufflé batter a few hours in advance and left at room temperature until ready to bake. Bake right before serving.