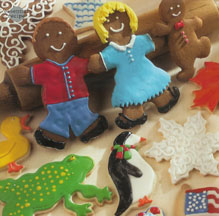 Recipe created by FabFood on

Jul 23, 2007
View more recipes by FabFood.
Prep: –
Cook Time: –
Total: –
Serving: –
Recipe for Decorator's Dream Sugar Cookies. The Fiori di Sicilia ("Flowers of Sicily," a wonderful orange-vanilla flavor) adds a special "bakery-style" flavor to these treats.
Ingredients
1 cup (2 sticks, 8 ounces) butter
2 cups (8 ounces) confectioners' sugar
2 tablespoons (1 3/8 ounces) light corn syrup
1/4 teaspoon Fiori di Sicilia or 1 teaspoon vanilla extract or almond extract
1/2 teaspoon salt
1 large egg, lightly beaten with 2 tablespoons water
1 teaspoon baker's ammonia*, optional
3 1/2 cups (14 3/4 ounces) unbleached all-purpose flour
Directions
Yield: about 4 dozen 2-inch cookies
Baking temperature: 350°F
Baking time: 8 to 12 minutes
In a medium-sized bowl, cream together the butter, sugar and corn syrup until light and fluffy. Beat in the flavoring and salt. Add the Baker's ammonia to the egg and water, and stir to dissolve. Add this mixture, along with the flour, to the ingredients in the bowl, and Beat until smooth. Divide the dough in half, put each half in a plastic bag, and flatten each slightly. Refrigerate for 1 hour.
Preheat your oven to 350°F (375°F for Gingerbread Cookies -- see recipe link below)). Lightly grease (or line with parchment) several baking sheets. Take one piece of dough out of the refrigerator, and flour a clean work surface, and the dough. Roll it out as thin or thick as you like; for slightly less crisp cookies, roll it out more thickly. We roll Decorator's Dream Cookies 1/16- to 1/8-inch thick; Light Spice Cookies, 1/8- to 1/4-inch thick; and Gingerbread Cookies (SEE RELATED LINKS BELOW FOR RECIPES), which we prefer a bit less crisp and more chewy, 1/4-inch thick. Use flour under and on top of the dough to keep it from sticking to the table or rolling pin.
Alternatively, place the dough on parchment, and put a sheet of plastic wrap over it as you roll, pulling the plastic to eliminate wrinkles as necessary when rolling; this will keep dough from sticking without the need for additional flour.
For soft dough, or dough to be rolled extra-thin, you may choose to roll right onto the ungreased back of a baking sheet.
Cut out shapes with a cookie cutter, spacing them as close to one another as possible. After cutting cookies, carefully peel up the scrap dough between them. Set this dough aside in a bag in the refrigerator, to be rolled again later.
Transfer cookies to greased cookie sheets (or, if you've rolled right onto the pan, remove the dough scraps between the cookies). Bake the cookies just until they're slightly brown around the edges, or until they feel firm, about 8 to 12 minutes. Let the cookies cool on the baking sheet for several minutes, or until they're set. Transfer them to a rack to cool completely.
Repeat with the remaining dough.
*Baker's ammonia will make an ultra-crisp cookie.
Filed Under:
Rolled, Vegetarian, RV, Picnics, Gifts, Brown Bagging, Make Ahead, Kid Friendly, New Year's, Valentines Day, St. Patricks Day, Easter, Mother's Day, Father's Day, Fourth of July, Halloween, Hannukah, Christmas