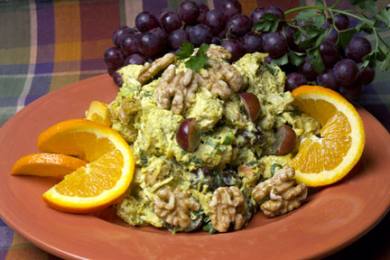 Recipe created by FabFood on

Oct 29, 2008
View more recipes by FabFood.
Prep: –
Cook Time: –
Total: –
Serving: –
Recipe for Curry Chicken Salad with Walnuts. A full-flavored salad blended with curry, cumin, Dijon mustard and pepper cultivates a slightly fiery taste.
Ingredients
2 1/2 - 3 quarts water
1 tablespoon salt (for the cooking water), plus salt to taste if desired
2 1/2 pounds skinless, boneless chicken breasts
1 1/2 cups mayonnaise
2 - 3 tablespoons curry powder
1 tablespoon ground cumin
1 tablespoon Dijon mustard
1/2 teaspoon ground black or white pepper
1/4 cup mango chutney
1/4 cup chopped parsley
4 green onions, including the white and green parts, thinly sliced
3 cups (about 1 pound) seedless red grapes cut in half
1 1/2 cups (6 ounces) chopped toasted  walnuts
12 or more leaves butter or red leaf lettuce
12 or more orange slices or wedges
Directions
To cook the chicken, in a large pan bring the water and salt to a boil over high heat. Add the chicken, and then reduce the heat and cook, partially covered, for 15 minutes; the water should simmer gently, not boil hard. Remove from heat and set aside for about 30 minutes.
Remove the chicken from the cooking liquid and, as soon as it is cool enough to handle, cut it into bite-sized pieces about 1/2-inch across. You will have 6 - 7 cups chicken, more or less. Set aside.
To make the dressing, in a large bowl whisk together the mayonnaise, curry powder, cumin, mustard, pepper, chutney. Add the grapes, parsley, green onion, walnuts and chicken pieces. Stir and toss with a large spoon to coat everything evenly with the dressing. Taste the salad, and add more curry powder, and salt to taste, if you wish. Place each serving of salad on a lettuce leaf and garnish with an orange slice or two.
Nutritional information per serving: 495 calories, 31g protein, 16g carbohydrate, 2g fiber, 325mg sodium, 89mg cholesterol, 35g fat, 4g saturated fat.
Filed Under:
Chicken, Poultry, Fruit, Camping, RV, Picnics, Brown Bagging, Quick and Easy, Make Ahead, Kid Friendly, Low Carb, Low Fat, Eating Light, Diabetic