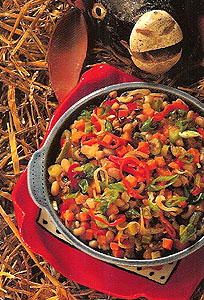 Recipe created by FabFood on

Jul 23, 2007
View more recipes by FabFood.
Prep: –
Cook Time: –
Total: –
Serving: –
Recipe for Cowboy Caviar Salsa Serve this unique salsa as a dip or with ham and eggs.
Ingredients
3/4 cup black eyed peas, washed
2 green jalapeño chiles, halved
3 teaspoons salt
3 or 4 sprigs each marjoram and thyme
1 cup cider vinegar
1 stick canela or cinnamon
2 cups water
8 black peppercorns
2 bay leaves
1/4 bunch fresh cilantro, tied
1 fresh New Mexico red chile, seeded and diced
1 red jalapeño chile, seeded and diced
1 green jalapeño chile, seeded and diced
1 small red bell pepper, seeded and diced
1/2 cup diced celery
1/2 cup diced carrot
1 small red onion, cut into fine rings
3 green serrano chiles, sliced into fine rings
1 yellow tomato, diced
2 tablespoons extra-virgin olive oil
1/4 cup finely sliced scallions (green part only) for garnish
Directions
Makes About 2 1/2 Cups
Cook the black eyed peas and halved jalapeños for about 45 minutes to 1 hour, or until the beans are tender, adding 1/2 teaspoon of salt towards the end of the cooking time. Drain and transfer to a mixing bowl.
Tie the marjoram and thyme sprigs together. Place in a large stainless steel pan with the vinegar, 2 teaspoons salt, canela or cinnamon, water, peppercorns, and bay leaves. Bring to a boil, reduce the heat, and simmer for 15 minutes. Add the cilantro, and simmer for 5 minutes longer. Strain, discarding the solids, and return the liquid to the pan.
Add the New Mexico chiles, red and green jalapeños, bell pepper, celery, and carrot, and simmer until the vegetables are just al dente, about 5 minutes. Add the onion rings and simmer for 2 minutes longer. Strain the liquid and return to the pan, and transfer the vegetables to the bowl with the beans.
Heat the Strained cooking liquid, add the serranos, and reduce over high heat to about 3 tablespoons of liquid. Transfer all to the mixing bowl. Add tomato, oil and remaining 1/2 teaspoon salt. Garnish with sliced green onions sprinkled over the top.
Serving Suggestion: With ham and/or eggs.
Filed Under:
Dips, Salsas, Beans and Legumes, Vegetarian, RV, Make Ahead, Low Carb, Low Fat, New Year's, Mexican, Vegan