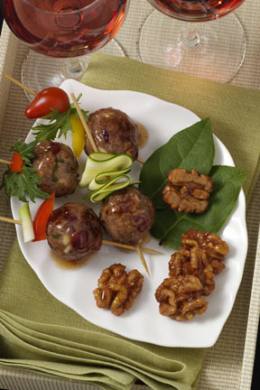 Recipe created by FabFood on

Oct 28, 2008
View more recipes by FabFood.
Prep: –
Cook Time: –
Total: –
Serving: –
Recipe for Cocktail Walnut Turkey Meatballs in Sweet and Sour Sauce
Ingredients
1 pound extra lean or lean ground turkey
1/2 cup (2 ounces) finely chopped toasted California walnuts
1/4 cup dried cranberries, finely chopped
2 tablespoons thinly sliced green onion
2 tablespoons finely chopped red onion
2 tablespoons crushed granola (without raisins) or shredded wheat
2 tablespoons finely chopped dried apple
1 teaspoon coarse salt
1/2 teaspoon pepper
1 egg, beaten
1/2 cup panko Japanese style bread crumbs
1 1/2 - 2 cups sweet and sour sauce*
Directions
*Note: Use a bottled sauce, often sold in supermarkets among the Asian ingredients, or make your own by combining equal parts of chili sauce and either grape jelly or apricot jam in a pan, and stirring together over moderate heat until smooth.
Preheat the oven to 350ºF. Coat a large baking sheet with nonstick cooking spray.
In a large bowl combine the turkey, walnuts, cranberries, green onion, red onion, granola, apple, salt, pepper, egg, and panko. Beat vigorously, using a big spoon or your very clean hands (it's just like mixing a meat loaf), until all the ingredients are evenly combined.
Roll tablespoon blobs of the turkey mixture between your palms into balls about 1 inch across, then place on the baking sheet. Bake for about 15 minutes, shaking the pan once or twice to move the meatballs around, until fully cooked. Cut into one or two meatballs to be sure; there should be no trace of raw meat.
Warm the sweet and sour sauce in a large skillet over low heat, or in a chafing dish. Add the meatballs and stir to coat with the sauce and heat through.
Makes about 40 meatballs 6 to 8 Servings Nutrition information per meatball: 51 calories, 3g protein, 5g carbohydrates, 0.33g fiber, 120mg sodium, 14mg cholesterol, 2g total fat, 0.43g saturated fat, .13g omega-3.