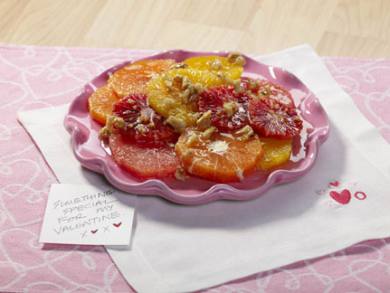 Recipe created by FabFood on

Oct 29, 2008
View more recipes by FabFood.
Prep: –
Cook Time: –
Total: –
Serving: –
Recipe for Citrus Salad with Honey Walnut Ginger Syrup. Have fun picking a variety of citrus fruits to use in this dessert salad.
Ingredients
1 navel orange, peeled and sliced
1 blood or Cara Cara orange, peeled and sliced
1 Ruby Red grapefruit, peeled and cut into supremes
1 white grapefruit, peeled and cut into supremes
1/4 recipe (8 tablespoons) Walnut Ginger Honey Syrup (see below)
1/4 cup shredded coconut, toasted Walnut Ginger Honey Syrup:
1 cup mild flavored (e.g. clover) honey
1 1/2 tablespoons finely minced peeled fresh ginger OR strips of orange zest from one large orange
1 1/2  cups walnuts
Directions
Prepare the citrus fruit and set aside. To make supremes, peel the grapefruit removing enough outer peel to expose the flesh. Use a paring knife to cut out each segment of fruit, leaving behind the tough casings that separate each segment.  Divide citrus fruit evenly among four salad plates and set aside.
Prepare the syrup. In a small saucepan, bring honey and ginger to a low boil. Reduce heat and simmer over very low heat for 1 minute, being careful not to let the honey boil over. Remove from heat and stir in walnuts. Cool to room temperature.
Toast the coconut by spreading the coconut evenly on a microwavable plate. Heat on high power 5 minutes stirring every 1-2 minutes until lightly toasted. Cool.
When the syrup has cooled to room temperature drizzle 2 tablespoons on top of each serving of citrus fruit. Top with toasted coconut and serve.
Nutrition information per serving: 640 calories, 9g protein, 93g carbohydrates, 6g fiber, 0mg sodium, 30g total fat, 4g saturated fat.
Filed Under:
Fruit, Fruit, Vegetarian, Camping, RV, Picnics, Brown Bagging, Make Ahead, Kid Friendly, Low Fat, Eating Light, New Year's, Valentines Day, Easter, Mother's Day, Father's Day, Christmas, Diabetic, Vegan