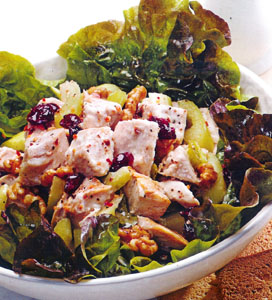 Recipe created by FabFood on

Dec 17, 2007
View more recipes by FabFood.
Prep: –
Cook Time: –
Total: –
Serving: –
Recipe for Chunky Turkey Salad with Cranberries and Walnuts. Walnuts make this chunky turkey and cranberry salad an essential fatty acid winner.
Ingredients
2 tablespoons chopped walnuts
3/4 pound oven roasted turkey breast, thickly sliced (deli turkey is OK)
1/2 cup fat-free salad dressing-type mayonnaise, such as Miracle Whip®
1 tablespoon lemon juice
1 tablespoon grill seasoning
1/4 cup dried cranberries
1 cup chopped celery
4 cups mixed salad greens
16 slices melba toast
Directions
Makes 4 Servings, Approximately 400 Calories Each 1. Preheat oven to 400°F.
2. Place the walnuts on a cookie sheet and bake until the smell fragrant, about 5 minutes.
3. Dice the turkey into 1/2 inch cubes.
4. Mix the salad dressing, lemon juice, and grill seasoning in a small bowl. Toss with the turkey cubes, cranberries and celery.
5. Place 1 cup of salad greens on each of 4 plates.
6. Divide the turkey mixture evenly among the 4 plates. Sprinkle with the toasted walnuts and serve each person 1 salad with 4 slices of melba toast.
Filed Under:
Turkey, Poultry, Fruit, RV, Quick and Easy, Make Ahead, Kid Friendly, Low Fat, Eating Light, Thanksgiving, Christmas