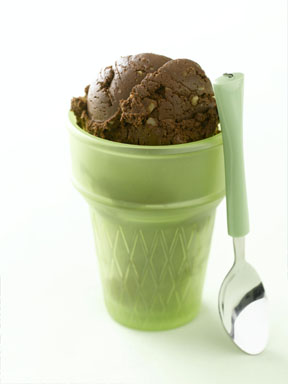 Recipe created by FabFood on

Nov 3, 2008
View more recipes by FabFood.
Prep: –
Cook Time: –
Total: –
Serving: –
Recipe for Chocolate Walnut Gelato. The chocolate flavor with a hint of orange and walnuts is a frozen treat that is sure to be a favorite for grown-up tastes.
Ingredients
3 cups water
1/2 cup granulated sugar
1/4 cup Dutch processed, unsweetened cocoa powder
3 ounces bittersweet chocolate, finely chopped
1 tablespoon orange zest
1 cup walnuts finely chopped, toasted
Directions
In medium saucepan over medium heat, bring water, sugar and cocoa powder to a boil, whisking constantly. Reduce heat and simmer until sugar is completely dissolved and cocoa is well blended, about 1 minute. Remove from heat and stir in chocolate until melted. Let cool completely.
Stir in orange zest and California walnuts. Cover and refrigerate until completely cold, about 4 hours.
Spoon chilled chocolate into shallow metal pan; freeze until almost firm, about 3 hours. Break into chunks; purée in food processor. Pack into airtight container and freeze until firm, about 1 hour.
Alternatively, transfer chilled mixture to ice cream maker and prepare according to manufacturer's instructions.
Chef's Tip: Use good quality chocolate to achieve the best results; do not use baking chocolate for this recipe.
Nutrition information per serving: 200 calories, 4g protein, 21g carbohydrates, 3g fiber, 0mg sodium, 12g total fat, 3.5g saturated fat.