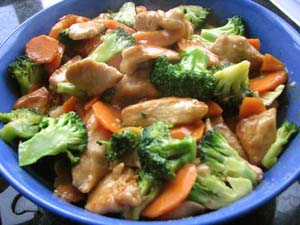 Recipe created by FabFood on

Aug 19, 2010
View more recipes by FabFood.
Prep: –
Cook Time: –
Total: –
Serving: –
Chinese Chicken with Broccoli and Carrots recipe.
Ingredients
4 to 6 boneless, skinless chicken breasts, or chicken thighs, slightly frozen
2 tablespoons soy sauce
1 tablespoon dark sesame oil
2 tablespoons, plus 2 teaspoons cornstarch
2 teaspoons sugar
2/3 cup chicken broth
2 tablespoons water or sherry
6 green onions, diagonally sliced
4 cloves garlic, minced
2-inch piece fresh ginger, peeled and minced
3 tablespoons vegetable oil, preferably peanut oil
4 to 6 cups broccoli florets
1/2 cup carrots, sliced diagonally
2 teaspoons red chili flakes (optional)
2 tablespoons hoisin sauce (fermented soybean sauce)
Directions
Leave chicken slightly frozen to allow for easier cutting. Cut chicken into bite sized pieces.
marinade the chicken while you are preparing the rest of the dish. In a medium bowl, toss the chicken together with half of the garlic, ginger, soy sauce, sugar, 1 tablespoon of the cornstarch, the water or sherry, and the sesame oil. Allow to marinade at room temperature for 15 minutes (or may be in refrigerator for several hours).
In a large non-stick skillet, or wok, over high heat, add two tablespoons of the oil and heat. Add the broccoli and carrots as well as the remaining garlic, ginger, and 2 tablespoons of water. Stir fry about 1 to 2 minutes.
Season vegetable mixture with 1 teaspoon of salt and a pinch of pepper.
Stir fry broccoli about one minute more, or until broccoli is still bright green and crisp. Transfer vegetables to a plate.
Reheat skillet, or wok, and add 2 to 3 more tablespoons of oil. Add the marinated chicken and red chili flakes, if using. Stir fry about three minutes or until chicken begins to brown. Add hoisin sauce. Return the broccoli to the pan and toss to heat through. Stir in the reserved cornstarch mixture and bring to a boil, or until mixture starts to thicken.
Add sliced green onions and stir for about 1 minute. Add more water, or chicken broth, if needed to thin the sauce.
Serve with steaming hot jasmine rice.