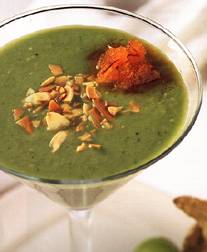 Recipe created by FabFood on

Jul 23, 2007
View more recipes by FabFood.
Prep: –
Cook Time: –
Total: –
Serving: –
Recipe for Vegan Chilled Avocado, Tomatillo and Cucumber Soup with Saffron-Lime Ice. This creamy, smooth luxurious chilled green soup is easy to make and hard not to like.
Ingredients
Saffron-Lime Ice:
Juice of 2 limes
1/4 teaspoon saffron threads, soaked in 1/4 cup warm water for 20 minutes
1 teaspoon unrefined sugar
1 teaspoon Hungarian or Spanish paprika, toasted
1/2 cup water
1/3 teaspoon salt
Soup:
1/2 yellow onion cut into 1/2 inch dice
4 cloves garlic, peeled
1 jalapeño chile
3 ripe avocados, peeled and pitted
8 tomatillos, peeled
1 English cucumber, peeled, halved and seeded
1/2 cup loosely packed cilantro leaves
1 teaspoon dried oregano, toasted
1/4 teaspoon freshly ground nutmeg
1/4 teaspoon freshly ground black pepper
juice of 1 lime
2 teaspoons light miso
3 cups water
salt
cayenne pepper (optional)
1/3 cup slivered almonds, toasted and very coarsely chopped for garnish
Directions
To Make the Ice: Mix all of the ingredients together in a bowl and pour into a 2 inch deep pan. Freeze for 3-4 hour until solid.
To Make the Soup: Heat a large non-stick sauté pan over high heat. Add the onions, garlic and jalapeño. Dry toast, stirring frequently, for 7-10 minutes, until half the onions, garlic and jalapeño are charred. Remove from the pan and let cool to room temperature.
Peel and seed the jalapeño. Place the avocado in a mixing bowl with the cooled onion, garlic and jalapeño. Add the tomatillos, cucumber, cilantro, oregano, nutmeg, black pepper, lime juice, miso and water. In a blender, or using a hand-held immersion blender, blend the ingredients in batches until smooth. Add salt and cayenne pepper to taste. Refrigerate for at least 2 hours or until well chilled.
To Serve: Ladle the soup into 6 martini glasses. Sprinkle toasted almonds over the top of each. Scrape the saffron ice crystals off the pan with a fork, and place 2 teaspoons on each serving of soup. Serve immediately.
Per Serving Soup: 203 calories (64% from fat); 4.7 g protein; 15 g carbohydrate; 15 g fat; 0 mg cholesterol' 84 mg sodium; 3.5 g fiber.
Per Serving Ice: 3 calories (5%from fat); 0 g protein; 0.7 f carbohydrate; 0.1g fat; 0 mg cholesterol; 40 mg sodium; 01. G fiber.
Filed Under:
Vegetable, Fruit Soups, Cold Soups, Vegetarian, RV, Low Carb, Low Fat, Eating Light, New Year's, Valentines Day, Mother's Day, Diabetic, Vegan