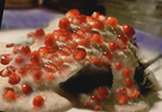 Recipe created by FabFood on

Apr 18, 2009
View more recipes by FabFood.
Prep: –
Cook Time: –
Total: –
Serving: –
Recipe for Chiles en Nogada Stuffed Chiles in Walnut Sauce, A Classic Cinco de Mayo Dish
Ingredients
6 large green poblano chiles
1 tablespoon olove oil
1/2 pound ground beef or pork
3 cloves garlic, minced
1/2 small onion, diced
sea salt and freshly ground black pepper to taste
1 apple peeled, cored, and chopped
2 tablespoons blanched almonds, chopped
1/2 teaspoon cinnamon
pinch of nutmeg
1/4 teaspoon cumin
1 bunch cilnatro, chopped
2 tablespoons raisins, softened in 1/4 cup warm water
3 eggs separated
1 tablespoon flour
2 tablespoons oil for frying
3/4 cup sour cream
1/2 teaspoon sugar or honey
1/4 cup evaporated milk
1/2 cup walnuts, finely chopped
fresh pomegranate seeds for garnish
Directions
Roast chiles over a flame or under a broiler until blackened.  Let rest in a plastic bag for 5-10 minutes.  Remove skins, slit open one side of each chile and remove the seeds and veins. 
Warm oil in a skillet over medium high heat, add meat and brown until nearly done.  Add the garlic, onion, apple, almonds, spices, raisins, and cilantro.  Cook for 5-7  minutes.  In a medium bowl, beat egg whites until stiff peaks form, sift flour over egg whites and fold in, then fold in beaten egg yolks  with a pinch of salt. 
Warm 2 tablespoons of oil in a skillet over medium heat.  Stuff chiles with meat mixture, dip each stuffed chile in the egg mixture and fry until golden brown, turning once. 
Whisk sour cream with evaporated milk, add walnuts, sugar or honey, and pour over hot chiles just before serving with a sprinkle of pomegranate seeds on top.
JoAnn Jagroop writes the cooking blog This Dame Can Cook -- Simple Recipes from Alaska to the South Pacific and Caribbean.