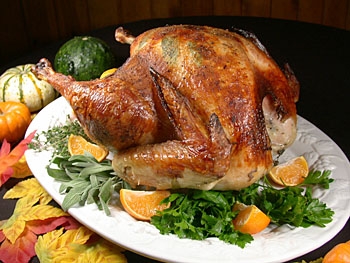 Recipe created by FabFood on

Nov 26, 2008
View more recipes by FabFood.
Prep: –
Cook Time: –
Total: –
Serving: –
Recipe for Cheri's Brown Sugar and Citrus Brine for Turkey. Taking the time to brine your turkey before roasting, grilling or frying, always assures a mist flavorful bird.
Ingredients
water
1 cup kosher salt
1 1/2 cups brown sugar
1 medium onion, cut into large chunks
3 tangerines
3 lemons
10-12 garlic cloves, crushed
1 tablespoon crushed peppercorns
6 bay leaves
small bunch fresh sage
small bunch fresh thyme
Directions
In a large pot, mix 1/2 gallon water with salt and brown sugar.  Stir until heated and the salt and sugar are completely dissolved.  Add this to your brining container and cool completely.  You can speed this process by adding a bunch of ice.  Quarter the tangerines and lemons and squeeze the juice into the liquid, then drop the squeezed fruit into the container as well.  Add remaining ingredients.  Stir well then add the turkey.  Add enough water to cover and stir it all up.
If you're using using an insulated coooler (as opposed to keeping the brining turkey in the fridge), take a plastic zipper bag (or two depending on the size and shape of your container), fill with ice and water, close and use to weight down the turkey and keep it submerged, and to keep everything well chilled (photo below left).
You can leave the turkey in the brine for up to 24 hours before roasting.  Rinse before putting in the pan.  I like to stuff the cavity with some of the herbs and citrus fruit as well.  To get the look in the photo above, place whole fresh sage leaves under the skin on the breast.  Season with salt and pepper and roast.
See the Related Features below for detailed turkey roasting instructions.
turkey roasting Hint!
Don't have a roasting pan?  No problem, you can make a "rack" out of aromatic vegetables like onions, celery, and carrots (see photo below).  Place your turkey on the vegetables to roast.  Your gravy will be even more flavorful.  I like to dump these veggies intot the stockpot pater along with the turkey carcass to make homemade stock.  Click here for a detailed recipe.