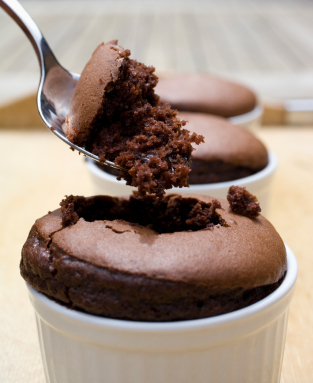 Recipe created by FabFood on

Apr 12, 2010
View more recipes by FabFood.
Prep: –
Cook Time: –
Total: –
Serving: –
This basic chocolate souffle is a snap to pull together. Its slightly crunchy top melts away to reveal a soft, gooey center. Serve with sweetened whipped cream to cut the richness of the chocolate.
Ingredients
2 tablespoons butter, plus additional for ramekins
4 ounces semisweet chocolate chips
1 large egg yolk
4 large egg whites
1/4 cup sugar
Directions
1. Preheat oven to 375 F.
2. Generously butter four six-ounce ramekins and place on a baking sheet.
3. Melt chocolate and two tablespoons butter together in a small saucepan over low heat, stirring constantly until chocolate is melted and smooth. Remove from heat and let cool for 10 minutes.
4. Stir egg yolk into cooled chocolate. Chocolate will stiffen slightly. (It will look like chocolate frosting.)
5. Whip egg whites to soft peaks in a stand mixer or by hand. Gradually add the sugar to the egg whites and continue Whipping until whites are at stiff peaks.
6. Spoon about a cup of the whites into the chocolate and stir until fully incorporated and no white streaks remain. (This first batch of whites is added to lighten the chocolate, making it easier to fold into the remaining whites, so it's ok to stir instead of fold here.)
7. Gently add the chocolate to the remaining egg whites, folding carefully until fully incorporated and mixture is uniformly brown with no white streaks.
8. Spoon batter into prepared ramekins, filling each ramekin about three-quarters full. Use a damp paper towel to wipe any chocolate away from the edges. (chocolate drips will cook and harden before your souffle is done and may prevent your souffle from rising evenly.)
9. Bake 17 -- 20 minutes until souffles are puffy but still jiggle slightly when the baking sheet is gently nudged.
10. Remove the souffles from the oven and immediately place each ramekin on a small plate topped with a napkin or doily to keep the ramekin from moving while in transit.