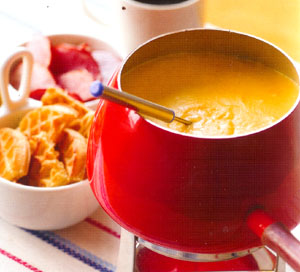 Recipe created by FabFood on

Dec 27, 2007
View more recipes by FabFood.
Prep: –
Cook Time: –
Total: –
Serving: –
A great addition to your brunch menu, this fondue complements waffles, English muffins, and pancakes, as well as most breakfast meats and your favorite fruit.
Ingredients
8 ounces Port Salut cheese, grated
8 ounces mild Cheddar cheese, grated
2 tablespoons all-purpose flour
1 cup whole milk
2 teaspoons maple extract
Directions
Makes 12 Servings or 3 Cups
Toss the cheese with the flour in a bowl and set aside. In a fondue pot, bring the milk and maple extract to a boil over medium-high heat. Decrease the heat to low and add the cheese mixture, 1/2 cup at a time, stirring until melted after each addition. Serve immediately.
Serve With: toasted English muffins, cut into bite-sized pieces; waffles or pancakes, cut into bite-sized pieces; pear chunks; apple chunks, pineapple chunks; seedless grapes; cooked breakfast sausages, cut into bite sized pieces; ham or Canadian bacon, cut into bite sized cubes.
Beverage Suggestions: mimosas; sparkling wine with a splash of pear or apple brandy; coffee or black tea.
Cheese Notes: Port Salut, a mild, semi-soft cow's milk cheese with a distinctive orange rind, was first produced in the 1800's in Brittany by French Trappist monks. In 1959, the monks sold the distribution rights to a major French creamery and Port Salut is now widely available in American supermarkets and specialty stores. The orange rind should be removed before grating the cheese for fondue; to do this, peel off what you can with your fingers, then scrape off what remains with the back of a paring knife.
Filed Under:
Dips, Fondue, Other, Vegetarian, Camping, RV, Quick and Easy, Kid Friendly, New Year's, Valentines Day, Easter, Mother's Day, Father's Day, Christmas