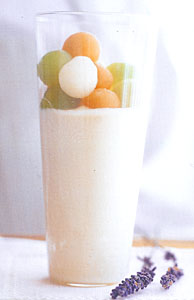 Recipe created by FabFood on

Jan 13, 2008
View more recipes by FabFood.
Prep: –
Cook Time: –
Total: –
Serving: –
Recipe for Chanterelle's Lavender and Honey Creme Fraiche Parfait - he tartness of crème fraiche tempers the potency of the lavender, and the conbo of lavender and honey is, of course, a classic.
Ingredients
8 egg yolks
1/2 cup plus 2 tablespoons sugar
1/3 cup honey
1 1/2 tablespoons dried lavender or 4 fresh stalks
pinch of salt
3 cups crème fraiche
Directions
Makes 1 1/2 Quarts
Special Tools & Pans: Stand mixer; candy thermometer; eight 5 ounce decorative dishes for freezing the parfait or terrine pan (optional)
Whip and Cook and Egg Yolks Place the egg yolks and 2 tablespoons of the sugar in the bowl of a stand mixer and whisk at medium speed. Simultaneously, in a small saucepan, combine the remaining 1/2 cup sugar, honey, 1/4 cup water, and lavender (if you are using fresh lavender, just use the flowers and leaves). Attach a candy thermometer to the side of the pan and cook over medium-high heat until it reaches 248 F. Pass the hot sugar syrup through a fine mesh strainer into a measuring cup. Discard the lavender. With the mixer set on medium-high speed, quickly pour the hot syrup into the egg yolks in a continuous stream. Add the salt. whisk the yolks until they become pale, have tripled in volume, and are just slightly warm.
Whip the Crème Fraiche:Whip the crème fraiche until it holds the lines of a whisk and forms soft peaks. Finish the Parfait: Scrape the whipped crème fraiche into the whipped yolks. Place a spatula in the center of the bowl, scrape the bottom, and bring the bottom over the top. Rotate the bowl 45 degrees and continue folding until the mixture is well combined. Scoop into the molds or terrine pans and freeze for at least 4 hours.
Serving Suggestion This parfait can be served with any fruit in season. Gently toss the berries with a bit of sugar and let them macerate 10 minutes before serving. This dessert is especially good complemented by fresh sliced melon or melon purée.
Storage This frozen mousse will keep in the freezer for 1 week.
Filed Under:
Puddings and Mousses, Frozen, Other, Vegetarian, RV, Quick and Easy, Make Ahead, Kid Friendly, Valentines Day, Easter, Mother's Day, Fourth of July, Freezer Friendly, Restaurant Recipes