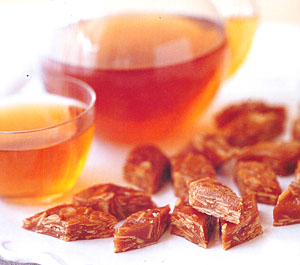 Recipe created by FabFood on

Jan 13, 2008
View more recipes by FabFood.
Prep: –
Cook Time: –
Total: –
Serving: –
Recipe for Chanterelle's Almond Honey Caramel Chews. These easy to make candies are intensely chewy, lightly crunchy, and full of a caramelized honey sweetness.
Ingredients
14 ounces (about 4 cups) sliced blanched almonds
1 cup heavy cream
1 cup whole milk
16 tablespoons (8 ounces) butter
1 1/2 cups sugar
1 tablespoon light corn syrup
Directions
Makes 50 Small Pieces of Candy
Special Tools & Pans: 12 X 8 inch cookie sheet or baking pan with at least 1/2 inch sides; medium sized heavy bottomed saucepan with at least 4 inch sides; candy thermometer (optional).
Toast the Almonds Preheat the oven to 350F. Place the almonds on a cookie sheet and bake until they are brown and emit a nutty aroma, 10 to 15 minutes. Transfer the nuts to a bowl. Leave the oven on. Grease the baking pan and line the bottom with aluminum foil or parchment paper.
Cook the Caramel Place all the ingredients except the toasted almonds in a heavy bottomed saucepan with a candy thermometer attached to the side. Bring the mixture to a boil over medium-high heat. When the mixture changes from beige to a light golden brown ( 5 to 8 minutes) turn the heat down to medium-low and continue to cook, stirring the candy with a heat-proof spatula every 2 minutes. The candy will continue to thicken and darken. Cook the caramel again it registers 260F on the thermometer. If you do not have a candy thermometer, dip a clean fork quickly into the caramel and drizzle a drop or two on a clean counter surface. If the candy holds its domed drop shape and scrapes off the counter cleanly without sticking, it is ready. Remove the pan from the heat.
Finish the Candy Fold in the toasted almonds with the heat proof spatula and scrape the mixture into the prepared baking pan. bake until the candy flattens out and air bubbles appear throughout the caramel, 12 minutes. Remove from the oven and allow the candy to cool for at least 4 hours before cutting. Cut the candy into squares, diamonds, or rectangles.
Serving Suggestion Serve this candy as a dessert or on a tray of cookies and candies. Make some around the holidays and send it to your friends.
Storage This candy will keep, in a well sealed container and at room temperature, for 2 weeks.
Variations: Hazelnut, Walnut, Pistachio, or Peanut Honey Chews: Substitute the same amount of any of these nuts for the almonds. Make sure you chop the nuts before incorporating them into the caramel.
Chocolate Dipped Nut Chews: Melt and temper 3 ounces of bittersweet chocolate. Dip the bottom of each cut caramel chew in the chocolate and allow the dipped candies to dry dipped side up.
Filed Under:
Candies and Sweets, Vegetarian, RV, Picnics, Gifts, Brown Bagging, Quick and Easy, Make Ahead, Kid Friendly, New Year's, Valentines Day, Easter, Mother's Day, Father's Day, Halloween, Thanksgiving, Christmas, Restaurant Recipes