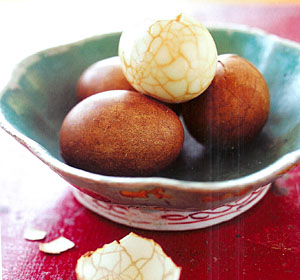 Recipe created by FabFood on

Oct 20, 2008
View more recipes by FabFood.
Prep: –
Cook Time: –
Total: –
Serving: –
Recipe for Cecelia Chiang's Tea Eggs. These beautiful marbleized eggs are the ultimate snack food. They're nutritious, can be served warm or cold, are portable, and best of all, are easy to make.
Ingredients
10 large eggs
4 black tea bags
1 tablespoon kosher salt
1/4 cup soy sauce
Directions
Put the eggs in a large saucepan with enough water to cover them by 2 inches and bring to a boil over high heat. reduce the heat to medium, add the tea bags and salt, and cook for 15 minutes. Using a metal spoon with a long handle, make fine cracks in the shell of each egg by gently tapping the surface several times, trying to keep the shells intact. Pour in the soy sauce and reduce the heat to medium-low. Cover the pan and continue to cook for about 1 hour and 15 minutes.
Remove the pan from the heat, leave covered, and let the eggs soak in the liquid for about an hour, or until they are darkly colored. You can test them for color by carefully removing one of the eggs from the pan and peeling off a bit of the eggshell. If they're too light, let them sit longer, testing them after 30 minutes. Using a slotted spoon, remove the eggs to a plate and discard the liquid. The eggs can be peeled and served at this point, or refrigerated in a covered container in their shells for up to 4 days.
Filed Under:
Snacks, Eggs, Vegetarian, Camping, RV, Picnics, Brown Bagging, Quick and Easy, Make Ahead, Kid Friendly, Low Carb, Low Fat, Eating Light, Finger Foods, Chinese, Restaurant Recipes