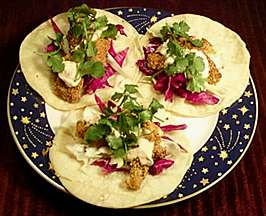 Prep: –
Cook Time: –
Total: –
Serving: –
Recipe for Catfish Tacos. These quick to prepare tacos have the great flavor combination of fried catfish and corn tortillas going for them.
Ingredients
1 pound catfish fillets, cut into strips about 1 inch wide
1 cup shredded cabbage (you can use a knife or a coarse grater)
1/2 cup chopped cilantro
1 cup corn meal
1 tablespoon chili powder
1 tablespoon Cajun Seasoning Blend
1/2 cup corn oil
24 small corn tortillas
Dressing:
1/2 cup mayonnaise
3 tablespoons salsa
Directions
In a shallow dish mix corn meal, chili powder and Cajun seasoning together. Set aside.
Mix salsa and mayonnaise together. Set aside.
Heat oil in a large heavy bottomed skillet. Run catfish under cold water to moisten (you can also use milk or buttermilk to moisten the catfish) and dredge/coat catfish with cornmeal mixture. Fry fish in heated oil until brown and crispy (about 3-4 minutes per side). Remove catfish from pan and drain of excess oil on paper towels.
Heat tortillas by placing them in a dry non-stick skillet over med-high heat for about 30 seconds per side, or by palcing them directly over the flame of a gas burner (this takes even less time, so watch them carefully so they don't burn). Prepare the taco as soon as the tortilla comes off the heat. To do so, stack two tortillas together, place a portion of shredded cabbage in center of tortilla, add a few catfish strips, top with some cilantro and spoon a tablespoon or so of dressing over the top. Fold tortilla in half and eat!