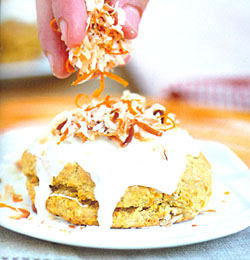 Recipe created by FabFood on

Jan 7, 2008
View more recipes by FabFood.
Prep: –
Cook Time: –
Total: –
Serving: –
Recipe for Carrot Cake Scones. You can make these scones large, but since they are rich, minis are a good way to go, too. These are great for picnic or brown bag lunch treats.
Ingredients
3 cups all-purpose flour
2/3 cup sugar
1/2 teaspoon salt
1 tablespoon baking powder
1/2 teaspoon baking soda
1 1/2 teaspoons ground cinnamon
1 tablespoon orange zest, finely minced
1/2 cup round walnuts
1/2 cup unsalted butter, cut into chunk
1 cup buttermilk
1 large egg
1 1/2 teaspoons pure vanilla extract
1 cup shredded carrots
1/2 cup golden raisins or minced dried pineapple Cream Cheese Glaze:
4 ounces or 1/2 cup cream cheese. Softened
1 1/2 to 2 cups confectioner's sugar
1 tablespoon fresh lemon juice
1 teaspoon pure vanilla extract Finishing Touches:
3/4 cup toasted coconut
carrot shreds
orange zest
ground cinnamon
Directions
Makes 12 Large Scones or 24 Miniature Scones
Preheat oven to 400ºF. Stack two baking sheets together and line top sheet with parchment paper. Arrange oven rack to upper third position.
In a food processor, add flour, sugar, salt, baking powder, baking soda, cinnamon, orange zest and walnuts and blend briefly. Add butter and pulse to make a coarse, grainy mixture. Turn out into a large bowl. Make a well in the center and stir in buttermilk, egg, and vanilla. Stir well with a fork to make a soft batter; then fold in carrots and raisins. Let rest for 5 minutes.
Pat or press out dough to 3/4 inch thickness on a floured work surface. Cut into 3 inch rounds. Place on prepared baking sheets. Bake until lightly browned, about 15 to 20 minutes. Cool scones on a wire rack.
Meanwhile, to make cream cheese glaze, place cream cheese, confectioner's sugar, lemon juice, and vanilla in food processor. Process to make a smooth glaze. When scones are completely cooled, spread generously with cream cheese glaze. Top with roasted coconut, carrot shreds, orange zest, and cinnamon.
Filed Under:
Quick, Muffins and Scones, Ethnic and Regional, Baked Goods, Pastries, Other, Vegetarian, RV, Picnics, Gifts, Brown Bagging, Make Ahead, Kid Friendly, New Year's, Valentines Day, Easter, Mother's Day, Father's Day, Thanksgiving, Christmas, English/Irish/Scottish