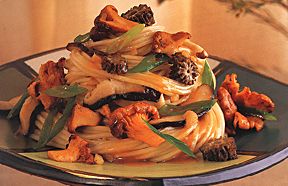 Recipe created by FabFood on

Jul 23, 2007
View more recipes by FabFood.
Prep: –
Cook Time: –
Total: –
Serving: –
Recipe for Cantonese Wild Mushroom Pasta. Expand your repertoire with this easy to prepare meal that is also healthy and tasty,
Ingredients
8 ounces fusilli or your favorite pasta
2 teaspoons plus 3 tablespoons flavorless cooking oil
1/2 pound firm mushrooms such as button, shittake, morel, or chanterelle
3 whole green onions
3 cloves garlic, finely minced
2 tablespoons finely minced ginger
Sauce:
1/4 cup chicken stock
1/4 cup dry sherry or Chinese rice wine
2 tablespoons oyster sauce
1 tablespoon dark sesame oil
2 teaspoons cornstarch
1/2 teaspoon sugar
1/2 teaspoon freshly ground ginger
Directions
Advance Preparation
toss the pasta with the 2 teaspoons cooking oil. If using shiitake mushrooms, cut off the stems. Cut the mushrooms into 1/2 inch slices. Cut the green onions on a sharp diagonal into 1-inch lengths. Combine the mushrooms, green onions, garlic and ginger (you'll need 4 cups total). Cover and refrigerate all ingredients until 5 minutes before cooking. Can be completed to this point up to 8 hours in advance of last minute cooking.
Bring 4 quarts water to a rapid boil in a large pot. Lightly salt the water and cook the pasta according to the package instructions. When the pasta is slightly firm, drain it, rinse with cold water and drain Last Minute Cooking
Place a wok over high heat. When wok is very hot, add 1 1/2 tablespoons cooking oil. When oil is hot, add the vegetable mixture and stir and toss until the mushrooms begin to wilt, about 2 minutes. Transfer to a plate and return wok to high heat. Add the remaining 1 1/2 tablespoons oil. When the oil is hot, add the pasta. Stir and toss for 30 seconds, then add the sauce. Stir and toss until the pasta is heated through. Return the vegetables to the wok and cook for 30 seconds more to heat evenly. Transfer to a platter or dinner plates and serve at once.
Filed Under:
Pasta, Vegetable Dishes, Mushroom, Vegetarian, Camping, RV, Quick and Easy, Make Ahead, Low Fat, Eating Light, New Year's, Valentines Day, Mother's Day, Chinese