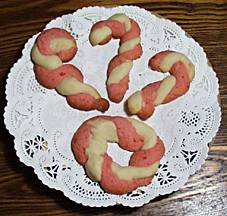 Recipe created by FabFood on

Jul 23, 2007
View more recipes by FabFood.
Prep: –
Cook Time: –
Total: –
Serving: –
Recipe for Candy Cane Cookies. Here's a festive and decorative cookie to add to your holiday baking repertoire.
Ingredients
2 1/2 cups flour
1/4 teaspoon salt
1 cup butter, at room temperature
1 cup confectioners sugar
1 large egg
1/2 teaspoon vanilla extract
1/2 teaspoon peppermint extract
1/4 teaspoon liquid red food coloring
1/2 cup crushed peppermint candy, such as candy canes (a food processor makes quick, albeit noisy work of this)
Directions
Preheat oven to 350 degrees F.
Mix flour and salt together, set aside.
For each candy cane, scoop 1 teaspoonful of the plain dough and 1 teaspoonful of pink dough (tip: a small melon baller will give you about the right amount). Roll each dough portion between your hands to make a 4 inch rope. Twist the ropes around each other like a Barber Pole and shape into a cane shape. Arrange cookies on a parchment paper lined baking sheet (or a lightly greased baking sheet), about 1 inch apart.
If dough becomes too soft, refrigerate for a few minutes until it firms up again, and only take out small amounts at a time to speed production.
Bake for about 8 minutes until firm to the touch. Do not let the cookies brown. Cool for a minute before using a wide spatula to transfer the cookies to wire racks to cool completely. Store in a tightly covered container, separating the layers with waxed paper.
In a large bowl, with an electric mixer, beat butter until creamy, gradually beat in confectioners' sugar and continue beating until light and fluffy, about 2-3 minutes. beat in egg, vanilla, and peppermint extracts then lower mixer speed and gradually mix in the flour mixture, beating just until blended. Remove slightly more than half of the dough from the bowl and set aside. Add the red food coloring and crushed peppermint candy to the remaining dough and beat until evenly mixed and colored.