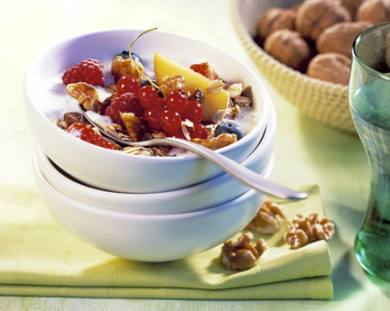 Recipe created by FabFood on

Oct 29, 2008
View more recipes by FabFood.
Prep: –
Cook Time: –
Total: –
Serving: –
Recipe for California Walnut Granola. Make your own granola -- it's quick, easy, healthy, and tasty.
Ingredients
4 cups quick cooking (not instant) rolled oats
2 cups natural wheat bran
1 1/2 cups chopped walnuts
1/2 cup liquid honey
2 teaspoons vanilla
1 1/2 cups raisins (or dried cranberries, chopped dried apples, apricots, or other mixed dried fruit)
Directions
In a large bowl stir together oatmeal, bran and walnuts. In small microwaveable bowl, combine honey and vanilla; microwave on high for about 20 seconds or more until more runny. Stir to mix; pour over dry ingredients and toss to coat well. Spread evenly in large shallow baking pan and bake in 300ºF oven for about 30 minutes, or until golden, stirring two or three times. Cool completely; it will crisp as it cools. Stir in raisins or dried fruit; store in airtight container.
Nutrition information per serving: 413.5 calories, 13.1g protein, 58.3g carbohydrates, 12.5g fiber, 17.8g total fat, 1.8g saturated fat, 0mg cholesterol, 4.6mg sodium, 2.1g omega-3, 9.5g omega-6.
Filed Under:
Snacks, Cereals, Other, Vegetarian, Camping, RV, Gifts, Brown Bagging, Quick and Easy, Make Ahead, Kid Friendly, Eating Light, Diabetic, Other, Vegan