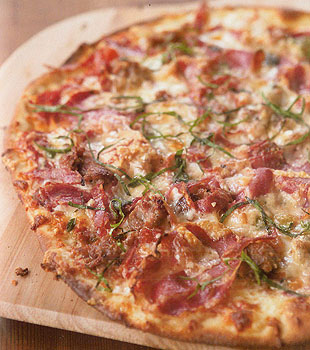 Recipe created by FabFood on

Feb 22, 2009
View more recipes by FabFood.
Prep: –
Cook Time: –
Total: –
Serving: –
Recipe for California Pizza Kitchen's Sicilian Pizza - a thin crust, meat lovers pizza.
Ingredients
14 ounces Neapolitan Style Thin Crust Dough
1/4 cup CPK's Spicy Marinara Sauce
2 1/2 ounces (2/3 cup) grated Fontina cheese
3 ounces (1 cup) grated mozzarella cheese
6 ounces cooked and crumbled Italian sausage
12 slices Capocollo ham
2 ounces sliced Italian salami
2 ounces shaved (1/2 cup) Parmesan cheese
2 teaspoons dried oregano leaves
4 large basil leaves, julienned
Special Equipment:
16 inch pizza stone
wooden pizza peel
Directions
Makes one 14-inch pizza or two 10-inch pizzas
1. Place a seasoned (or oiled) pizza stone in the middle of the oven and preheat to 450°F, at least 30 minutes.
2. Roll and shape the dough into one 14-inch or two 10-inch circles and place on a floured pizza peel.  If making 2 pizzas, work with only 1 piece of dough at a time, as your pizza stone may not accommodate more.
3. Spread the sauce over the surface of the dough and sprinkle the grated cheeses over the sauce.  Distribute the crumbled sausage over the  cheeses and top with the sliced ham.  Cut the salami slices into 1/4-inch julienne, and distribute over the ham.  Top evenly with the Parmesan shavings and sprinkle with oregano.
4. Transfer the pizza to the oven and bake for 5 to 8 minutes, or until the crust is golden brown and the cheese at the center is melted and bubbly.  If preparing another pizza, do so while the first is in the oven.  Slice, garnish with basil, and serve.