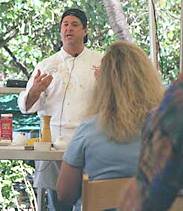 Recipe created by FabFood on

Jul 23, 2007
View more recipes by FabFood.
Prep: –
Cook Time: –
Total: –
Serving: –
Recipe for Butternut Squash and Pumpkin Soup. This Hawaiian regional cuisine recipe is from Chef Mark Ellman and was part of the Kea Lani Masters of Food and Wine Event.
Ingredients
1 butternut squash
1 kabocha pumpkin (or another type of small pumpkin or a large acorn squash)
2 tablespoons fresh minced ginger
1 medium Maui onion, chopped
3 cloves garlic, peeled, minced
1 medium carrot, chopped
1 medium celery stalk, chopped
2 tablespoons fresh basil, chopped
1 cup. dry white wine (optional)
2 cups water
1 bay leaf
1 kaffir lime leaf (or regular lime leaf)
2-3 slices fresh ginger, sliced
1 teaspoon whole fennel seeds
1/2 teaspoon dried chili pepper
1 whole star anise
1 cup heavy cream (optional)
vegetable or chicken base (optional, see recipe notes above)
about 2 tablespoons chopped fresh parsley for garnish
Directions
Cut the butternut squash and pumpkin in half, remove the seeds and roast in a 375°F oven until the meat is soft, about an hour.
Saute the minced ginger, onion, garlic, carrot and celery in a little olive oil until softened. Add fennel seeds, cumin, star anise, basil, and salt and cook for about a minute more. Add wine, cook for another minute, then add the water and simmer for about an hour. About half way through the cooking time add the kaffir lime leaf (whole) and the slices of ginger.
Taste the soup as you go along. At the end of the hour, purée the soup, taste for salt and pepper, and consider whether you want to add some base (see notes above).
Strain the soup. At this point, you might not need to do anything else but sprinkle the chopped parsley on top. For a richer finish, add up to a cup of heavy cream, keeping the soup warm but not boiling. Instead of the cream, you could also thicken the soup with a cornstarch slurry. And for other garnishes, try sautéed mushrooms such as shimeji, enoki, or shitake, or poached and diced butternut squash or sweet potatoes.