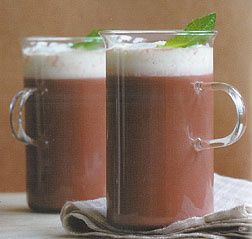 Recipe created by FabFood on

Jul 23, 2007
View more recipes by FabFood.
Prep: –
Cook Time: –
Total: –
Serving: –
Recipe for Brown Russian Hot Chocolate. A rich mouthful of chocolate that gets its complexity from chai-like spices best served in tall Russian coffee glasses.
Ingredients
2 ounces fresh, peeled, sliced ginger
2 cinnamon quills
1/2 teaspoon ground cinnamon
3 whole cloves
1 pinch ground cloves
1/4 teaspoon ground nutmeg
2 bay leaves
3 ounces unsweetened chocolate, finely chopped
6 fresh mint leaves, finely chopped
1/4 cup honey
3 tablespoons sugar
1/8 teaspoon salt
1 cup heavy cream
2 1/2 cups whole milk
1 tablespoon confectioner's sugar
4 tablespoons vodka
cinnamon 4 small mint sprigs for serving
Directions
In a saucepan over medium-low heat, combine the sliced ginger, the cinnamon quills, ground cinnamon, whole cloves, ground cloves, nutmeg and bay leaves. Add 1 cup water and bring to a boil. Immediately turn off the heat, cover, and let steep for 8 minutes.
Place the chocolate in a medium heatproof bowl and set aside.
Add the chopped mint leaves, honey, sugar, salt, 1/2 cup of the cream, and the milk to the saucepan. Return to medium-low heat and stir constantly with a wooden spoon as the mixture comes to a boil. boil for 10 seconds, then immediately strain the liquid through a fine mesh sieve onto the chocolate. Whisk slowly until all of the chocolate has melted and is thoroughly incorporated. An immersion blender can be used to smooth the beverage more easily.
In a separate bowl, using an electric mixer, whip the remaining 1/2 cup cream with the confectioner's sugar until it forms very soft peaks. Using a soup spoon, place a generous scoop of whipped cream in the bottom of each of 4 mugs. Add 1 tablespoon vodka on top of the cream. Pour the chocolate into the mugs until the whipped cream rises slightly above the rim. Sift a dash of cinnamon on top and garnish with a sprig of mint. Serve immediately.