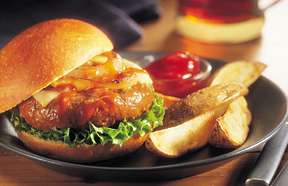 Prep: –
Cook Time: –
Total: –
Serving: –
Recipe for Brew Burgers. Sometimes there is nothing like a good burger, and this one delivers with a savory beer laces sauce.
Ingredients
1-1/2 pounds ground beef
4 slices sweet onion
4 slices Swiss cheese
4 crusty white or whole wheat rolls, split lettuce
Brew Sauce:
1/4 cup beer
1/4 cup prepared steak sauce
Directions
In 1-cup glass measure, combine sauce ingredients. Cover and microwave on HIGH 1 to 1-1/2 minutes or until bubbly; set aside (you could alternately heat ingredients on a stove top).
Lightly shape ground beef into four 3/4\"-thick patties. Place patties and onion on grill over medium, ash-covered coals. Grill, uncovered, 13 to 15 minutes or until centers of patties are no longer pink and onions are tender, turning occasionally. Season burgers with salt if desired, after turning.
Approximately 2 minutes before burgers are done, brush generously with sauce and top with cheese.
Line bottom of each roll with lettuce; top with burger, onion and sauce. Close sandwiches and serve.