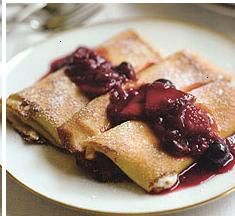 Prep: –
Cook Time: –
Total: –
Serving: –
Recipe for Blueberry Coulis. Serve this sweet French sauce with CIA's Cheese Blintzes or use it for a unique dessert topping.
Ingredients
1 pound fresh or frozen blueberries (3 1/2 cups)
3/4 to 1 cup sugar
1 to 2 tablespoons freshly squeezed lemon juice
Directions
Makes About 2 Cups
Combine the blueberries, 3/4 cup of the sugar, and one tablespoon of the lemon juice in a saucepan and bring to a simmer over medium heat. simmer until the sugar has dissolved, about 10 minutes. Taste the mixture and, if necessary, add more sugar. Continue to heat until any additional sugar is dissolved. Strain the coulis through a fine-mesh sieve. After Straining, place the coulis in a clean saucepan and bring to a simmer.
Make a slurry by blending 2 teaspoons cornstarch with 2 teaspoons cold water. Drizzle the slurry into the simmering coulis gradually, adding just enough to lightly thicken the sauce.
If desired, serve over cheese blintzes (pictured -- click here for recipe).
Filed Under:
Other, Sauces, Dessert, Vegetarian, RV, Quick and Easy, Make Ahead, Kid Friendly, Low Fat, Easter, Mother's Day, Christmas, Fruit, Vegan