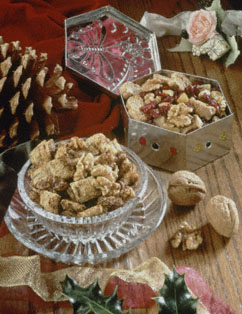 Recipe created by FabFood on

Oct 28, 2008
View more recipes by FabFood.
Prep: –
Cook Time: –
Total: –
Serving: –
Recipe for Biscotti Walnut Mix Cookies. A fun snack of sweet, spicy walnut cookies and dried fruit.
Ingredients
3 cups reduced fat all-purpose baking mix
1/2 cup sugar
1 tablespoon cinnamon
1 teaspoon nutmeg
2 cups California walnuts, in large pieces and halves
1 egg
1/2 cup nonfat milk
about 1/3 cup all-purpose flour, for dusting the work surface
2 cups dried cranberries
2 cups diced dried apples or pears
Directions
Preheat the oven to 425ºF.  Cover a large baking sheet with foil; set aside.
In a large bowl, place the baking mix, sugar, cinnamon, nutmeg and 1 cup of walnuts. Stir and toss the mixture with a fork until the ingredients are thoroughly mixed. In a cup or small bowl, beat together the egg and milk. Add to the walnut mixture and stir with a fork until the dough holds together in a rough mass.
Dust your work surface with some of the flour and turn the dough out onto it. Knead the dough gently a few times to make it more manageable, sprinkling on additional flour as needed to keep it from sticking to your hands and the surface. Divide the dough into 8 fairly equal pieces and on the floured surface press, pat and roll each piece into a cigar-shaped cylinder about 1/2 -3/4 inch wide and 10 inches long. Transfer to the baking sheet, leaving about 1 1/2 inches between each piece of dough. Bake 12-15 minutes, until the strips of dough have puffed and spread slightly. Remove from the foil and cool completely.
Reduce the oven temperature to 325ºF.
With a sharp knife cut each strip of dough crosswise into pieces 1/3 - 1/2 inch -- so they look like tiny biscotti. Don't worry if a few cookies break. Transfer to a large baking pan or roasting pan and add the remaining 1 cup of walnuts. Bake for about 25 minutes, stirring 2 or 3 times during baking, until the cookie slices are crisp and toasted. Remove from the oven and cool completely. Add the cranberries and apple and stir and toss to combine. Store in an airtight container.
Makes about 4 quarts. 8 Servings Nutrition information per serving: 608 calories, 9.32g protein, 101.9g carbohydrate, 23.68g cholesterol, 541 mg sodium, 8.42g fiber, 20.13g total fat, 2.4g saturated fat, 2.28g omega-3, 9.7g omega-6.