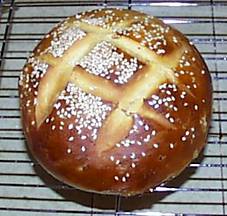 Recipe created by FabFood on

Jul 23, 2007
View more recipes by FabFood.
Prep: –
Cook Time: –
Total: –
Serving: –
Recipe for Beer Cheese Bread. This bread has a wonderful, tangy flavor. -- perfect for a corned beef sandwich on St. Patrick's Day. Serve with more beer, of course!
Ingredients
4 tablespoons sugar
2 tablespoons yeast
1 cup warm beer or ale (105 - 115 F)
5 cups flour
8 ounces extra sharp cheddar cheese, grated
2/3 cup non-fat instant dry milk powder
1 1/2 teaspoons salt
1 1/2 teaspoons dry mustard powder
2 eggs, beaten
1 egg white
1 tablespoon sesame seeds
Directions
TIP:
In a large bowl, dissolve sugar and yeast in warm beer, let stand for 5 minutes. Mix 4 1/2 cups flour, cheese, milk powder, salt and mustard powder and eggs in a separate bowl. Stir this into yeast mixture and keep mixing until you have a soft dough. Turn dough out onto a floured surface and knead until smooth and elastic, about 10 minutes. Add remaining flour, as needed, to prevent dough from sticking.
Divide dough into desired number of portions (usually 2 large or 4 small), and shape each portion into a round loaf. Place loaves on greased baking sheets, about 4-5 inches apart. Brush tops of loaves with egg white and sprinkle with sesame seeds. Take a sharp knife and cut criss-cross cuts, 1/8\" deep, into top of bread. Cover with a clean kitchen towel and let rise in a warm, draft-free place until doubled, about 1 1/2 hours. In the meantime, pre-heat oven to 375° F.
bake for about 20 minutes, or until golden brown and hollow sounding when thumped. Cool on wire racks.
The directions here are for mixing bread by hand, you can (and if you have one, should) use a heavy duty electric mixer to mix the dough. However, I don\'t like using a food processor for this recipe, because I like the cheese to have it\'s own texture and the food processor chops it too finely. I have used a bread machine to make the dough with good success. The one difference from the directions at left is, I add the shredded cheese later, at the time when you normally put in extra additions. Set the machine to dough only, then bake in oven as directed in the directions to your left.