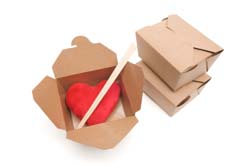 Prep: –
Cook Time: –
Total: –
Serving: –
Most of the ingredients in this quick and easy beef fried rice recipe are pantry staples and relatively inexpensive. Serve with a big salad and dinner is ready! Don't have a wok? An extra-large skillet will do. Also, if you have leftover rice, this is
Ingredients
1 tablespoon olive oil, plus 1 teaspoon
2 cloves garlic, minced
1 teaspoon grated ginger
½-pound lean cut of beef (such as flank steak), sliced thinly against the grain
2 cups mixed chopped vegetables, such as shredded cabbage, carrots and onions
1 tablespoon sesame oil
1 cup white rice, prepared
2 large eggs, beaten lightly
¼-cup low-sodium soy sauce
Directions
Heat 1 tablespoon olive oil in a wok over medium-high heat. Add the garlic and ginger and cook for one minute, stirring.
Add the beef and toss to combine. Cook until the beef is just barely cooked through (it will lose its raw color). Remove from the wok and set aside.
Add 1 teaspoon of olive oil to the wok and stir in the vegetables. toss and cook for 5-7 minutes. The vegetables should brown a little on the edges, but remain a crisp-tenderness.
Add the sesame oil and rice to the wok. Stir to combine with the vegetables. Push to one side. Add the eggs to the empty side of the wok. Let cook for one minute, then stir, slowly incorporating with the rice.
Add the beef back to the pan. Drizzle with soy sauce and stir to incorporate.
Cook for another 3-4 minutes, until the egg is fully cooked. Remove from heat.
Serve immediately.