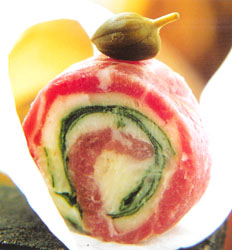 Recipe created by FabFood on

Jul 23, 2007
View more recipes by FabFood.
Prep: –
Cook Time: –
Total: –
Serving: –
Recipe for Beef Carpaccio with Spinach and Anchovy Butter. These beautiful pinwheel delights are made with quality beef, spinach and a flavored butter.
Ingredients
3 anchovy filets
4 tablespoons unsalted butter, softened
sea salt
freshly ground white pepper
5 ounces beef tenderloin, sliced 1/4 inch thick
1 cup baby spinach leaves
Directions
1. Chop the anchovies very fine, until they form a paste. Place the anchovies in a bowl and add the softened butter. Stir until completely combined; then season with salt and pepper.
2. Place a 12 X 12-inch piece of plastic wrap on a flat surface. Lay the tenderloin on the plastic wrap, with the slices overlapping slightly, so that the meat completely covers the plastic wrap. Place another piece of plastic on top of the tenderloin, and pound lightly with a mallet or a rolling pin until the meat is about 1/8-inch thick. Remove the top piece of plastic wrap and season the tenderloin with salt and pepper.
3. Spread the anchovy butter over the tenderloin in an even layer. Then arrange the spinach leaves over the anchovy butter.
4. Pull up one end of the plastic wrap and gently roll the edge of the tenderloin over on itself, as you would a sushi roll. Make sure that the spinach and butter are tightly rolled inside the meat, and take care not to roll the plastic wrap inside the tenderloin. Once it is tightly rolled and covered with the plastic wrap, place the roll in the freezer for 30 minutes, or up to a week. (If freezing for more than 30 minutes, take the roll out 10 to 15 minutes before cutting).
5. Remove the roll from the freezer, remove the plastic wrap, and cut the roll into 1/4-inch thick slices. Arrange on a platter and serve cold.