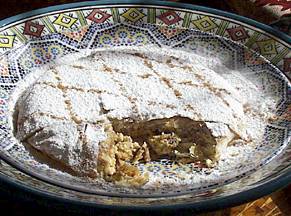 Recipe created by FabFood on

Jul 23, 2007
View more recipes by FabFood.
Prep: –
Cook Time: –
Total: –
Serving: –
This Moroccan recipe features layers of chicken, eggs and crushed almonds is a favorite at Restaurant Mamounia in Beverly Hills. The wonderfully spiced dish is topped with cinnamon and powdered sugar.
Ingredients
1/2 chicken
1 onion, chopped
1/2 teaspoon ginger
1/2 teaspoon turmeric
1/2 teaspoon black pepper
1 whole cinnamon stick
1 cup chopped cilantro
6 eggs
1/2 pound almonds
1/2 cup sugar
2 tablespoons cinnamon
2 large sheets phyllo pastry dough
1/4 cup melted butter
For Garnish:
confectioner
additional cinnamon
Directions
Cook eggs, along with 1/4 - 1/3 cup reserved cooking liquid from chicken in a large skillet until soft scrambled, do not overcook the eggs. Mix cooked eggs with chicken meat until well combined.
Process almonds, sugar and cinnamon in a food processor until almonds are crushed.
The above three steps can be done ahead of time, if desired. refrigerate ingredients until ready to cook.
phyllo dough can be a little tricky to work with. For best results, thaw completely. It's important to keep the dough you are going to work with wrapped in a slightly damp kitchen towel, as the dough dries out very quickly and becomes fragile and breaks apart. To prepare for the recipe, Chef Daniel separated two large sheets of dough, folded each sheet in half, then in half again and wrapped them in a damp towel.
Now you're ready to assemble the dish.
Brush an oven-proof skillet with melted butter. Unfold layer a phyllo pastry a little more than halfway across the skillet (photo 2), followed by another layer of dough over the other half (photo 3), overlapping the two pieces in the middle.
Spread about 1/3 cup of the crushed almond mixture over the bottom of the dough (photo 4), followed by the chicken egg mixture, followed by another layer of almonds (photos 5 and 6).
Carefully fold over the phyllo dough on all sides (photos 7 and 8), then brush the top of the pastry with melted butter (photo 9).
Bake the bastilla in a 350° F. oven for about 12-15 minutes or until lightly browned (photo 10). Carefully turn skillet upside-down on plate to remove bastilla (photos 11 & 12).
Sift a heavy layer of confectioner's sugar over the Bastilla (photo 13). Pinching cinnamon between your fingers, draw a criss-cross pattern of cinnamon over the layer of confectioner's sugar (photo 14). Take a paper towel and wipe away excess sugar from the edges of the plate. Serve immediately.
1. 2. 3. 4. 5. 6. 7. 8. 9. 10. 11. 12. 13. 14.