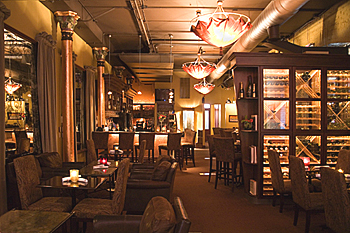 Prep: –
Cook Time: –
Total: –
Serving: –
Recipe for Bar Divani's Blood Orange Charlottes with Citrus Cream Cheese Bavarian. This recipe is from a fabulous wine bar and small plate restaurant in downtown Grand Rapids, MI -- a real find for midwest foodies.
Ingredients
Biscuit Roulade:
2/3 cup cake flour
3 tablespoons corn starch
8 eggs, separated
1 cup granulated sugar
1 tablespoon vanilla extract
1 tablespoon grated orange zest
1 tablespoon grated lemon zest
1/4 teaspoon salt
3/4 cup seedless jelly Cream Cheese Bavarian:
1/2 cup whole milk
1 1/2 teaspoons orange extract
2 1/2 teaspoons unflavored gelatin
16 ounces cream cheese
2/3 cup granulated sugar
1/2 cup heavy cream
4 egg whites
Directions
Prepare the Biscuit Roulade: 1. Preheat oven to 350°F.
2. Butter two 15" by 10" jelly roll pans and line with parchment paper. Butter the paper and sides of pans. In a large bowl, beat the eggs, 1/2 cup of the sugar, vanilla and the grated zest at high speed until thick and pale yellow.
3. In a separate bowl, beat the egg whites and salt on high speed until soft peaks form. Slowly add remaining 1/2 cup of sugar and beat until stiff, glossy peaks form.
4. Gently fold 1/3 of the egg whites into the yolk mixture. Sift flour and cornstarch on top and fold; then, gently fold in remaining egg whites.
5. Spread onto prepared pans, smoothing batter as evenly as possible. Bake for approximately 15 minutes, until tester inserted into center comes out clean.
6. Carefully lift the biscuits from the pans and place on wire rack to cool.
7. Using a serrated knife, trim edges to make even. Invert a 3 1/2 inch bowl on one of the biscuits and cut around it; repeat to cut eight circles. Cut the second biscuit into thirds crosswise to form three strips.
8. Spread the jelly onto the strips, covering completely. Beginning closest to you, roll each jelly-covered strip into a tight spiral. Wrap in plastic wrap and freeze for 1 hour.
Prepare the Cream Cheese Bavarian: 1. Place the milk and vanilla into a small, heavy saucepan. Sprinkle gelatin over the top of the milk; let stand 5 minutes. Place over medium heat briefly, until gelatin is dissolved. Set aside to cool.
2. In large bowl, beat the Cream Cheese and 1/3 cup sugar until smooth. In a separate bowl, beat the heavy cream until soft peaks form.
3. In a double boiler set over simmering water, heat the egg whites and remaining 1/3 cup sugar to 110 degrees F. Remove from heat and beat with mixer until soft peaks form.
4. Gently fold the gelatin mixture into the whipped cream. Carefully fold half the egg whites into the Cream Cheese mixture. Fold in the cream mixture and then fold remaining egg whites.
Assemble the Charlottes: 1. Line eight 8 ounce ramekins with plastic wrap, leaving some overhang. Coat lightly with nonstick cooking spray.
2. Remove the rolls from the freezer. With the seam edge on the bottom, slice into 16 slices, about 1/2 inch thick each.
3. Place one slice in center of each ramekin. Continue to place around the first one, lining the sides. Press firmly to fit snugly in place.
4. Spoon Bavarian into each ramekin and place reserved circles of biscuit on top, pressing lightly. Cover the tops of the molds with plastic wrap and refrigerate for 8 hours before serving.
5. Remove top plastic. Invert the Charlottes on serving plates, remove the ramekins and the plastic wrap.