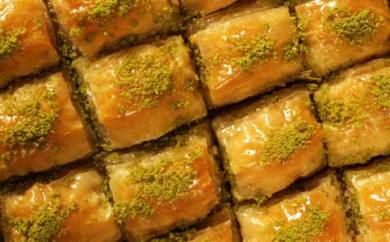 Prep: –
Cook Time: –
Total: –
Serving: –
Baklava recipe perfect for holiday gift giving or a delicious dessert.
Ingredients
12 dried calamyra figs, diced 1/4-inch
1/2 cup dark rum
1 1/2 cups toasted walnut pieces, chopped
1 1/2 cups toasted unblanched almonds, chopped
1 1/2 cups unsalted butter (3 sticks)
4 ounces bittersweet chocolate, diced 1/4-inch
1/3 cup sugar
1 tablespoon ground cinnamon
2 teaspoons ground cardamom
1/2 teaspoon ground cloves
1 (1 pound) boxes phyllo dough (about 48 sheets)
Baklava:
1 cup sugar
1 cup honey (preferably orange blossom), plus more for drizzling
1/2 cup water
Juice of 1 large lemon (about 3 tablespoons)
Syrup:
Directions
Soak the diced figs in the rum in a large bowl for at least 30 minutes and up to 2 hours.
Preheat the oven to 350 degrees F.
Spread the walnuts and almonds out on a baking sheet and toast until darkened and fragrant, about 8 to 10 minutes. Cool. Toss the nuts, chocolate, sugar, and spices with the figs and the rum.
Bring the butter to a simmer over low heat. Skim and discard the foamy solids that rise to the top until the butter is clear, about 8 to 10 minutes.
Lightly butter a 16 1/2 by 11 1/2-inch sheet pan.
Remove the phyllo from the package, unroll and lay it on the counter next to the pan and cover with a kitchen towel. Lay 1 sheet of the phyllo on the pan and brush lightly with butter.
Repeat with 11 more sheets of phyllo working quickly and keeping the phyllo covered, as you assemble the baklava. Scatter 1/3 of the nut mixture (about 1 1/2 cups) evenly over the layers of phyllo.
Repeat 2 more times and top with the remaining 12 sheets of dough.
Carefully, cut 3/4 of the way through the phyllo and nut filling to make about 96 (1 1/2-inch) squares.
bake the baklava until light brown and cooked through, about 1 hour. Raise the temperature to 450 degrees F and bake until golden crisp, about 5 to 8 more minutes.
While the baklava crisps make the syrup: Heat the sugar, honey, and water in a saucepan over high heat until the sugar dissolves. Add the lemon juice and carefully pour the hot syrup over the just baked baklava, making sure to get into all the cuts. Let cool. Complete the pre-made cuts in the baklava and serve with some honey drizzled on top.
Store the baklava in a sealed container for up to 1 week.