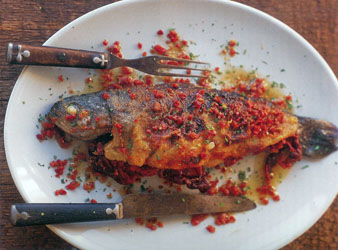 Recipe created by FabFood on

Jul 23, 2007
View more recipes by FabFood.
Prep: –
Cook Time: –
Total: –
Serving: –
Recipe for Trucha a La Navarra - Baked Trout with Jamon Serrano. This recipe is a rendition of a favorite meal served at Las Pocholas restaurant in Pamplona.
Ingredients
4 (1/2 pound) trout, cleaned with heads intact
salt
juice of 1/2 lemon
1/4 cup olive oil
5 thin slices jamon de Serrano or other dry-cured ham
all-purpose flour for coating
2 cloves garlic, minced
2 tablespoons chopped flat-leaf (Italian) parsley
Directions
Preheat the oven to 500° F. Season the trout with salt inside and out. Sprinkle the lemon juice inside the trout.
In a wide skillet, heat the olive oil over high heat. Place 4 ham slices in the pan and sear, turning once, for 1 to 2 minutes total, or until lightly browned on both sides. Using tongs, remove the ham from the pan and lay 1 slice inside each trout. Reserve the oil in the skillet.
Spread the flour in a shallow bowl. One at a time, roll the trout in the flour to coat on all sides, shaking off any excess. Return the skillet with the oil to high heat. When the oil is hot, add the trout and fry, turning once, for 2 to 3 minutes on each side, or until the fish are golden on the outside but undercooked on the inside.
Using a wide slotted spatula, transfer the trout to a roasting pan just large enough to accommodate them. Again, reserve the oil in the skillet. Finely chop the remaining ham slice. Return the skillet with the oil to high heat and add the chopped ham. Saute briefly, then add the garlic and saute for 1 minute, or until it begins to turn golden. Remove from the heat and spoon the contents of the skillet evenly over the trout. Bake the trout for 10 minutes, or until they are opaque when tested with a knife tip near the backbone. Remove from the oven and transfer to warmed plates, spooning any sauce from the pan over the top. Sprinkle with the parsley and serve immediately.