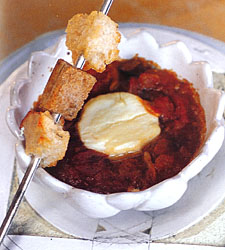 Recipe created by FabFood on

Jul 23, 2007
View more recipes by FabFood.
Prep: –
Cook Time: –
Total: –
Serving: –
Cindy Pawlcyn's Baked Goat Cheese and Tomato Fondue. Treat yourself to something spectacular, make this with ripe, warm-from-the-garden tomatoes.
Ingredients
6 thin slices of sturdy bread
2 pounds heirloom tomatoes or 2 cans diced tomatoes
2 tablespoons extra virgin olive oil
2 larges shallots, diced
4 cloves garlic, sliced
1/4 teaspoon salt
1/8 teaspoon freshly ground black pepper
1 fresh bay leaf, if possible, or 1 sprig fresh basil
2 tablespoons white wine
2 tablespoons sliced dates, prunes, or dried apricots
9 ounces jar Cabecou cheese, at room temperature
Directions
If you want smaller croutons, cut the slices of bread in half. Grill, toast, or oven-toast them so they are nice and crispy. Set them aside.
For the Fondue:
Peel and seed the tomatoes. If they are extremely juicy, set them in a colander to drain 20 minutes or so, then chop them into 1/2 inch pieces. (Canned tomatoes should be drained too.) Heat the olive oil in a heavy wide pan over medium heat. Add the shallots and garlic and cook slowly until very tender, 8 to 10 minutes. Increase the heat and add the tomatoes, salt, pepper, and bay leaf; cook another 30 minutes or so. Add the wine and cook until it has evaporated. Add the dried fruit and take the pan off the heat. The dish can be held a this point and finished later.
To Finish the Dish: Preheat the oven to 500°F. Cut the disks of cheese in half horizontally, making 6 small rounds. Spoon the tomatoes into a baking dish and top with the cheese. Bake until the top of the cheese is golden and the tomato sauce is heated through and looks rich and thick. Depending on your oven, this should take 6 to 8 minutes.
Set the baking dish on a napkin-lined plate (to keep it from sliding around) with the "croutons" alongside so your guests can make their own toasts. It is best to spread some cheese first, then spoon some tomatoes on top. Make sure you warn everyone about the hot dish.
Alternatively, cut the bread into bite-size cubes, toast till crispy, and have your guests skewer them with fondue forks and coat them with cheese and tomato fondue.