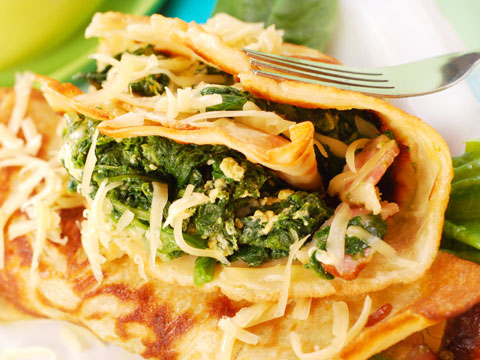 Prep: –
Cook Time: –
Total: –
Serving: –
This recipe is a very savory dish that everyone will enjoy at your next party. It is very simple, quick and easy.
Ingredients
12 6-inch crepes
2 beaten eggs
2 cups (15 ounces) ricotta cheese
1 1/2 cups shredded mozzerella
1 10-ounce package frozen chopped spinach, thawed and well drained
1 1/2 cups bread crumbs
1 cup parmeasan cheese
1/2 cup butter
1 cup heavy whipping cream
black pepper and garlic powder to taste
Directions
Preheat oven to 400 degrees.
In a large bowl combine eggs, ricotta, mozzerella, spinach, bread crumbs, 1/2 cup parmeasan, pepper and garlic, mix well.
Spoon about 1/3 cup of the filling into center of each crepe, roll up.
Cut each rolled crepe into thirds.
Place the pieces, cut sides up, in a 2-quart baking dish (placing pieces close together will help them remain upright)
In a small saucepan melt butter; stir in cream and the remaining parmeasan cheese.
Cook and stir over medium heat until mixture thickens slightly.
Pour the sauce over the crepes.
Bake for 18-20 minutes or unitl heated through.
Filed Under:
Recipes, Appetizers, Hors, Starters, Healthy Eating, Holidays, Low Carb, Low Fat, Eating Light, New Year's, Finger Foods, Vegetable