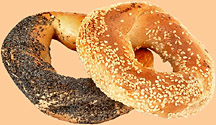 Prep: –
Cook Time: –
Total: –
Serving: –
Recipe for Bagels. The thing that sets bagels apart from other breads is that they are quickly boiled, before being baked, resulting in a delightful chewy texture.
Ingredients
1 1/2 cups warm water
2 1/2 teaspoons yeast
1 tablespoon sugar
1 tablespoon salt
4 1/2 - 5 1/2 cup flour
2 tablespoons molasses
optional toppings of choice:
sesame seeds
poppy seeds
kosher salt
onion bits, etc.
Directions
TIP: You can leave your bagels plain or top them with sesame seeds, poppy seeds, kosher salt, onion bits or other toppings of your choice.
Note: Note: I have made the dough with great success in a bread machine, using 4 1/2 cups
Combine 1/4 cup warm water, 1 teaspoon sugar and yeast in a large bowl. Stir to dissolve, then let stand for about 5 minutes or until foamy. Stir in remaining 1 1/4 cups warm water, sugar, salt and about 4 cups of flour and mix until well combined. Mix in enough of the remaining flour until you have a soft dough.
Turn dough onto a lightly floured surface and knead until smooth and elastic, about 5-8 minutes. Shape into a ball and place in a greased bowl. Cover with a clean kitchen towel and let rise in a warm place for until doubled, about an hour and a half.
Punch down dough and divide into 12 pieces. Cover with the towel again and let rest for 20 minutes.
With floured hands, roll each piece of dough into a rope 12-14 in length. Wrap the rope into a circle and pinch to close. Repeat with remaining pieces.
Preheat oven to 375° F. Bring a large pot of water, mixed with the molasses, to a boil.
Drop a couple of bagels into the water at a time, poaching them for about 20 seconds. Use a slotted spoon to transfer bagels to an ungreased baking sheet, (or one that's covered in parchment paper). Sprinkle with toppings, if desired, and bake for about 20 minutes, or until crusty and browned.
Tak's Professional Bagel Making Secrets Shaping -- The easiest way for someone that doesn't have years of training at hand shaping is to make a ball, stick their finger through it, make the finger and dough do a hula hoop thing, take it off the finger and shape it to look like a bagel. Boiling -- Drop the bagels into the near boiling water before the dough has a chance to rise, insuring that the bagels will sink. If the bagels are left in the water too long, the bagels will become gooey in the hole, so skim the the bottom of the pot to make sure that the bagels aren't sticking, and will surface. Remove the bagels when they surface and rinse off with cold water, and put the seeds of choice on your bagel (cinnamon raisin, egg, or pumpernickel bagels need a separate dough, of course). Baking -- Here is the most important part. Bagels are cooked on Bagel boards, but for the home cooked bagel, you can do this by taking a cooking sheet and putting a wet towel on half of it, the bagels are placed on the towel( seed side down), after about 6-7 minutes of baking, use the towel to turn the bagels on to the side that is baked(so that the bagels are seed side up on the hot baking sheet, now they won't stick to the baking sheet). bagels should not be flat and hard on the bottom, that is the reason for bagel boards. The main idea is to keep the seeds in tact until the bottom has raised enough to not stick to the pan. Storage -- Very important, never refrigerate a bagel! Freezing is O.K., but refrigeration will make it as hard as a rock! Click here to read Tak's tips and the History of the Bagel.