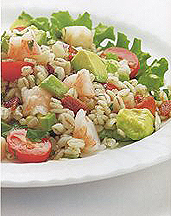 Recipe created by FabFood on

Jul 23, 2007
View more recipes by FabFood.
Prep: –
Cook Time: –
Total: –
Serving: –
Recipe for Bacony Barley Salad with Marinated Shrimp. Here's a great example of how to cook a healthy dish in minutes.
Ingredients
3 strips bacon, chopped
1 1/3 cups water
1/2 teaspoon salt
1/3 cup quick-cooking barley
1 pound peeled cooked shrimp (21-25 per pound; thawed if frozen), tails removed, coarsely chopped
1/3 cup lime juice
2 cups cherry tomatoes, halved
1/2 cup finely diced red onion
1/2 cup chopped fresh cilantro
2 tablespoons extra-virgin olive oil
freshly ground pepper to taste
1 avocado, peeled and diced
Directions
Makes 4 Servings 1 3/4 cups each
1. Cook bacon in a small saucepan over medium heat, stirring often, until crispy, about 4 minutes. Drain on paper towel; discard fat.
2. Add water and salt to the pan and bring to a boil. Add barley and return to a simmer. Reduce heat to low, cover and simmer until all the liquid is absorbed, 10 to 12 minutes.
3. Combine shrimp and lime juice in a large bowl. Add the cooked barley; toss to coat. Let stand for 10 minutes, stirring occasionally, to allow the barley to absorb some of the lime juice. Add tomatoes, onion, cilantro and the bacon; toss to coat. Add oil and pepper and toss again. Stir in avocado and serve.
Per Serving: 393 calories; 18 g fat (3 g sat, 11 g mono); 228 mg cholesterol; 30 g carbohydrate; 31 g protein; 7 g fiber; 671 mg sodium.
Nutrition Bonus: Vitamin C (50% daily value), Fiber (29% dv), Iron (25% dv), Folate (15% dv). High Fiber.
Filed Under:
Rice and Grains, Seafood, Vegetable, Camping, RV, Picnics, Brown Bagging, Quick and Easy, Low Fat, Eating Light, Mother's Day, Father's Day, Fourth of July, Diabetic