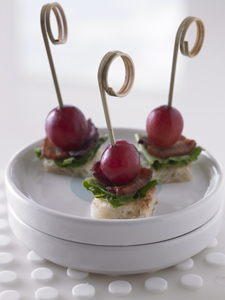 Recipe created by FabFood on

Dec 13, 2010
View more recipes by FabFood.
Prep: –
Cook Time: –
Total: –
Serving: –
The revival of good-quality bacon has given new life to the traditional BLT. In this classy version the bread is artisan, the bacon is applewood-smoked, the lettuce is crisy Romaine and the grapes top it off with a flacor and sensation that's unexpectedly
Ingredients
6 slices artisan white bread, ¼-inch thick, crusts removed
2 Tablespoons mayonnaise
6 each inner romaine leaves, rinsed and dried
8 slices applewood-smoked bacon
24 each red seedless California grapes, rinsed and dried
24 each decorative bamboo skewers
Directions
Lightly toast the bread and cut into one-inch squares (about 4 squares per slice). Spread a 1/4 teaspoon of mayonnaise in the middle of each piece.  Fold the romaine leaves in half lengthwise.
Cut romaine into one-inch squares along the spine, so that each square includes the spine of the leaf on one edge.  Prepare 24 one-inch lettuce squares.
Cook the bacon until tender but not crisp. Cut each cooked slice into 3 one-inch squares, to end up with 24 squares of bacon.
To assemble:
On each decorative bamboo toothpick, skewer one red grape, one square of bacon, a fold of lettuce and a square of toast.
Place skewers on serving plate or platter and serve.
Nutritional analysis per serving: Calories 66; Protein 1 g; Carbohydrate 3 g; Fat 5.4 g;  75% Calories from Fat; Cholesterol 6 mg; Sodium 86 mg; Fiber .22 g.
Filed Under:
Recipes, Appetizers, Hors, Snacks, Starters, New Year's, Valentines Day, Thanksgiving, Christmas, Finger Foods, Vegetable