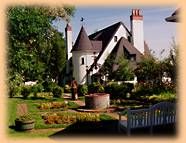 Prep: –
Cook Time: –
Total: –
Serving: –
Recipe for Apple Acadian from New Brunswick's Pansy Patch Inn. This recipe is a great way to use up leftover cranberry sauce after Thanksgiving -- phyllo wrapped baked apples with cranberry and vanilla sauce.
Ingredients
6 baking medium baking apples (most any variety with the exception of Macintosh will do)
1 cup cranberry sauce
4 sheets phyllo pastry
1/4 cup melted butter
Vanilla Sauce:
1 cup heavy cream
1/2 cup confectioner\'s sugar
1/2 teaspoon vanilla
1 tablespoon cornstarch (mixed with 1 teaspoon cold water)
Directions
Preheat oven to 375° F.
Core the apples and score the skin around them. Loosely fill the apple cavities with cranberry sauce. Brush each sheet of phyllo with melted butter, then cut each sheet into 6 equal squares. Place one apple on a phyllo square and fold the pastry up and around the apple. Turn the apple upside down and place the second square of pastry on and around the apple. Return the apple to its upright position and place on remaining 2 squares of pastry. fold pastry corner-to-corner and twist the top to seal. Repeat the procedure with the remaining apples.
Place apples on an ungreased baking sheet and bake for 20-30 minutes (length of time will depend upon type of apple used). Test for doneness with a toothpick: if toothpick goes in smoothly, apple is cooked. To serve, place apple on a dessert plate garnished with vanilla sauce.
Vanilla Sauce
Whisk together cream, sugar, vanilla and cornstarch mixture until smooth. Heat in the top of a double boiler over hot water, Whisking constantly until mixture thickens. Remove from heat, cover with plastic wrap and chill. Yields 1 cup.