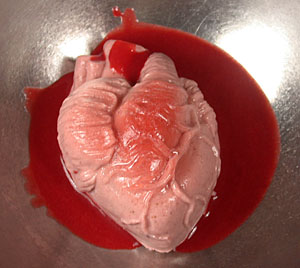 Prep: –
Cook Time: –
Total: –
Serving: –
Anatomically Correct Strawberries and Cream Heart for Halloween. This creepy dessert tastes great but looks ghoulish on a Halloween party buffet table.
Ingredients
Heart:
2 cups frozen strawberries
2 tablespoons unflavored gelatin
1/3 cup sugar
1/2 cup heavy whipping cream
3/4 cup whole milk
Strawberry Coulis:1 cup frozen strawberries, thawed with juice
1 teaspoon lemon juice
1 tablespoon sugar
fresh berries and/or whipped cream for serving
Directions
Makes 1 Heart Mold, 2 1/2 Cups, 5 ServingsLightly coat the heart Mold with a thin coat of vegetable oil or cooking spray and set aside.
Puree the thawed strawberries and juice in a food processor until smooth. Transfer to a bowl. Sprinkle gelatin over the pureed strawberries and let stand until softened, about 10 minutes.
Mix milk and cream in a heavy, medium saucepan. Bring to a simmer over low heat. Stir in sugar and cook until it completely dissolves, about 30 seconds. Stir in Strawberry/gelatin mixture and simmer until gelatin dissolves, about 1-2 minutes.
Remove from heat, and pour the mixture into the prepared mold(s) and chill for at least 6 hours or overnight. UnMold as you would any gelatin Mold. Serve with fresh berries and whipped cream and/or with Strawberry coulis (below).
Prepare Strawberry coulis:Puree all coulis ingredients in a blender or food processor. Pass through a strainer to remove seed and solids. Drizzle around the serving platter or bowl, strategically dripping a bit on the heart itself..
BUY THE BRAIN and Other Creepy Halloween Molds! Fabulous Foods Halloween Store
Buy the brain mold on this page as well as other creepy Molds and get everything you need to create professional looking carved pumpkins plus ultra cool Halloween decorations, party accessories and much more. Click here to shop!