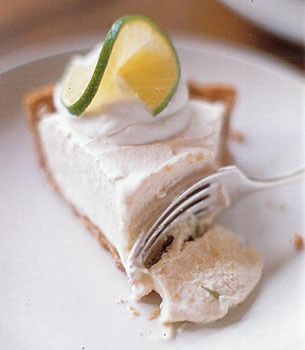 Recipe created by FabFood on

Jan 6, 2009
View more recipes by FabFood.
Prep: –
Cook Time: –
Total: –
Serving: –
Recipes for Agave Sweetened Frozen Margarita Pie. If you want to wow your guests at your next Mexican fiesta, make this dessert. Period.
Ingredients
Crust:
1 1/2 cups whole grain pretzel sticks
1/4 cup unsalted butter, melted
1/3 cup light agave nectar
Filling:
1 can (12 ounces) evaporated skim milk
1 tablespoon arrowroot powder
1/2 cup light agave nectar
freshly grated zest of 1 lime
6 tablespoons freshly squeezed lime juice (about 4 large limes)
2 tablespoons freshly squeezed orange juice (about 1 orange)
2 tablespoons good quality, preferably aged, tequila
1 tablespoon Cointreau or Triple Sec
1/2 teaspoon vanilla extract
1 cup heavy whipping cream
For Serving and Garnish:
agave sweetened whipped cream
fresh lime slices
Directions
Preheat the oven to 350°F. Lightly oil a 9-inch pie pan with canola oil cooking spray.
To prepare the crust, grind the pretzels to a fine meal in a food processor. Add the butter and gave nectar and pulse to combine. Press into the prepared pie pan to form the curst. Bake for 5-7 minutes, until the edges turn slightly golden. Cool before filling.
To make the filling, first prepare an ice water bath. Then make a slurry by mixing 2 tablespoons of the evaporated skim milk and the arrowroot powder together. In a small saucepan, heat the remaining evaporated milk and the agave nectar until the mixture comes to a gentle simmer. Whisk the arrowroot slurry into the saucepan. Stirring constantly, let the mixture thicken slightly. Remove from the heat and place the saucepan in the ice water bath to cool it down quickly, Whisking often. Pour the cooled filling mixture into a large bowl and add the lime zest, lime juice, orange juice, tequila, Cointreau, and vanilla extract. Whisk together well. Place in the refrigerator to cool about 30 minutes or until semi firm.
Whip the cream until soft peaks form. Fold the whipped cream into the cooled lime mixture. Spoon the filling into the pie crust and freeze for about 4 hours, or until firm.
To serve, let the pie defrost for about 10 minutes before slicing. Top the pie with lots of agave sweetened whipped cream and garnish with lime slices.